This post may contain affiliate links, which won't change your price but will share some commission.
This dish is a bit labor intensive, but totally worth it. The pork is super moist, and there are plenty of veggies to go around. I used the method that I used for roasting peppers a few weeks ago - cutting them in half and seeding them first, then smashing them flat onto a pan and broiling them. That way you don't have to keep turning them. Of course, if you have a gas stove, you can blister peppers in a snap right on the flame.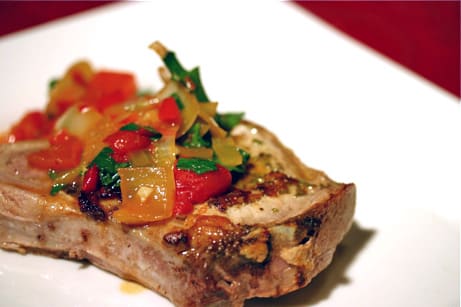 Pork Chops Scarpariello
Gourmet August 2008
yield: Serves 4
active time: 30 min
total time: 1 hr
A perfect introduction to the allure of chiles, this Italian classic balances the cherry peppers' piquancy with roasted bell peppers, lemon, and parsley. It's a bright, summery dish that you'll hanker for all year long.
2 red bell peppers
5 garlic cloves, finely chopped, divided
1 teaspoon finely chopped rosemary
3 tablespoons extra-virgin olive oil, divided
4 (1-inch-thick) bone-in pork chops (2 pounds total)
1 medium onion, chopped
4 fresh red or green cherry peppers or 2 fresh red jalapeños (¼ pounds total), finely chopped
½ cup dry white wine
½ cup reduced-sodium chicken broth
2 tablespoons unsalted butter
1 teaspoon fresh lemon juice
¼ cup coarsely chopped flat-leaf parsley
Roast bell peppers on racks of gas burners over high heat (or on rack of a broiler pan about 2 inches from heat), turning with tongs, until skins are blackened, 10 to 12 minutes. Transfer to a large bowl and tightly cover with plastic wrap. Let stand, covered, 20 minutes. Peel, then halve lengthwise, discarding stems and seeds. Cut peppers into 1-inch pieces.
While peppers stand, mince and mash half of garlic to a paste with ¾ teaspoon salt. Combine with rosemary, 1 tablespoon oil, and ½ teaspoon pepper. Rub onto chops.
Heat remaining 2 tablespoons oil in a large heavy nonstick skillet over medium-high heat until it shimmers. Sauté pork, turning once, until pale golden in spots and just cooked through, 4 to 6 minutes. Transfer to a plate and keep warm, loosely covered with foil.
Add roasted peppers to skillet with onion, remaining garlic, cherry peppers, and ¼ teaspoon salt. Cook, stirring occasionally, until onion is softened, 5 to 6 minutes. Add wine and broth and boil until liquid is reduced to a glaze, about 5 minutes. Add meat juices from plate and remove skillet from heat. Add butter, stirring until incorporated. Stir in lemon juice, parsley, and salt to taste and spoon over chops.
MacGourmet Rating: 4 Stars