This post may contain affiliate links, which won't change your price but will share some commission.
This is a recipe from one of the new cookbooks that I got for Christmas. The photos in this book are beautiful, and the recipes look fairly easy. This one was really tasty, but there was a major issue with the recipe - it calls for 3 cups of liquid at the end, and that's WAY too much. The photos show a tiny bit of liquid - definitely less than 3 cups. I'd make this again, but scale the wine and chicken stock way down to make a nice sauce - not a soup.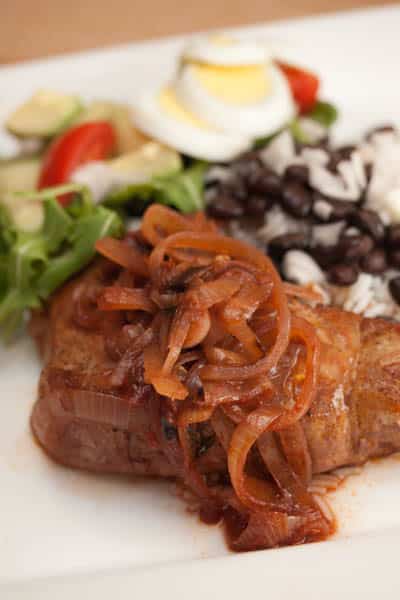 Pork Chops Pizzaiola
Rachael Ray's Look + Cook
Serves 4
4 (1 ½-inch-thick) bone-in pork chops
Salt and pepper
2 tablespoons EVOO (extra-virgin olive oil)
1 large garlic clove, crushed
1 teaspoon fennel seed
1 medium onion, sliced
1 teaspoon crushed red pepper flakes
2 sprigs of fresh oregano, leaves stripped, or 1 teaspoon dried oregano
¼ cup tomato paste
1 cup red wine
2 cups chicken stock
Season the chops with salt and pepper. Heat the EVOO in a large skillet over medium-high heat. Throw in the crushed garlic, flip it around, then add the chops and cook until golden brown and caramelized, 2 to 3 minutes per side. Transfer the chops to a plate and reserve. Add the fennel seed, onions, red pepper flakes and oregano to the pan and reduce the heat a bit. Cook until the onions are tender, 7 to 8 minutes, then add the tomato paste and stir for 1 minute. Add the win, stir for a minute more, then add the stock and stir to combine. Slide the chops back into the pan and simmer for 5 to 6 minutes to finish cooking the meat through.
Big Flavors Rating: 4 Stars