This post may contain affiliate links, which won't change your price but will share some commission.
This quick, colorful meal is perfect for busy weeknights when you want a homemade meal without a lot of effort.
This recipe from the September issue of Cooking Light magazine. I'm a big fan of capers, and I loved that it promised to be a quick & easy meal.
I bought a 6 pack of thin-cut pork chops, and it was the perfect amount for 3 adults (2 of those thin chops for each of us).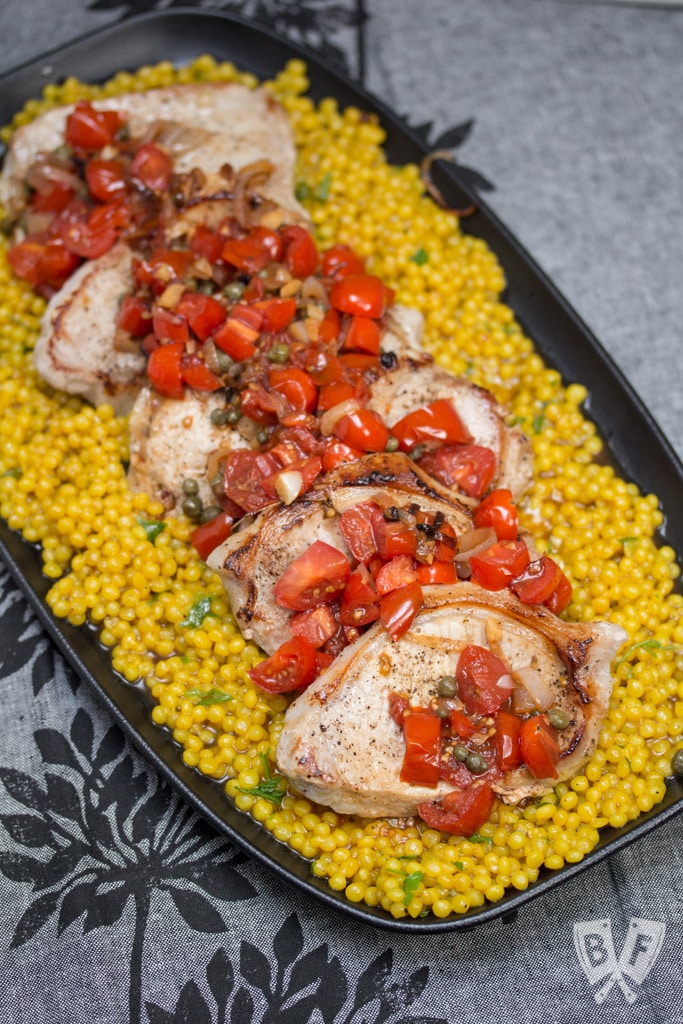 The couscous had a surprising depth of flavor for so few ingredients. Toasting the turmeric really brought it to life, and using stock instead of water made it extra rich.
This is definitely a recipe that should be in your arsenal. It's simple yet elegant enough for dinner guests. Absolutely delicious!
2 tablespoons olive oil
½ teaspoon ground turmeric
1 ¾ cups unsalted chicken stock, divided
1 cup uncooked whole-wheat Israeli couscous
1 teaspoon freshly ground black pepper, divided
¾ teaspoon kosher salt, divided
2 tablespoons chopped fresh flat-leaf parsley
5 teaspoons unsalted butter
4 (4-oz.) boneless, center-cut pork chops
¼ cup sliced shallots
2 garlic cloves, minced
2 thyme sprigs
¾ cup chopped ripe tomatoes
¼ cup dry white wine
2 ½ tablespoons drained capers
See MyRecipes for the full recipe.