This post may contain affiliate links, which won't change your price but will share some commission.
The title of this recipe is no joke - this stuff rocked my socks off! It's a rich and delicious potato salad that's highly addictive.
I loved the combo of potatoes and hard boiled eggs, and the sweet pickle livens the whole thing up. Running the potatoes through the food mill makes them incredibly smooth - it was a big hit at the potluck I took it to!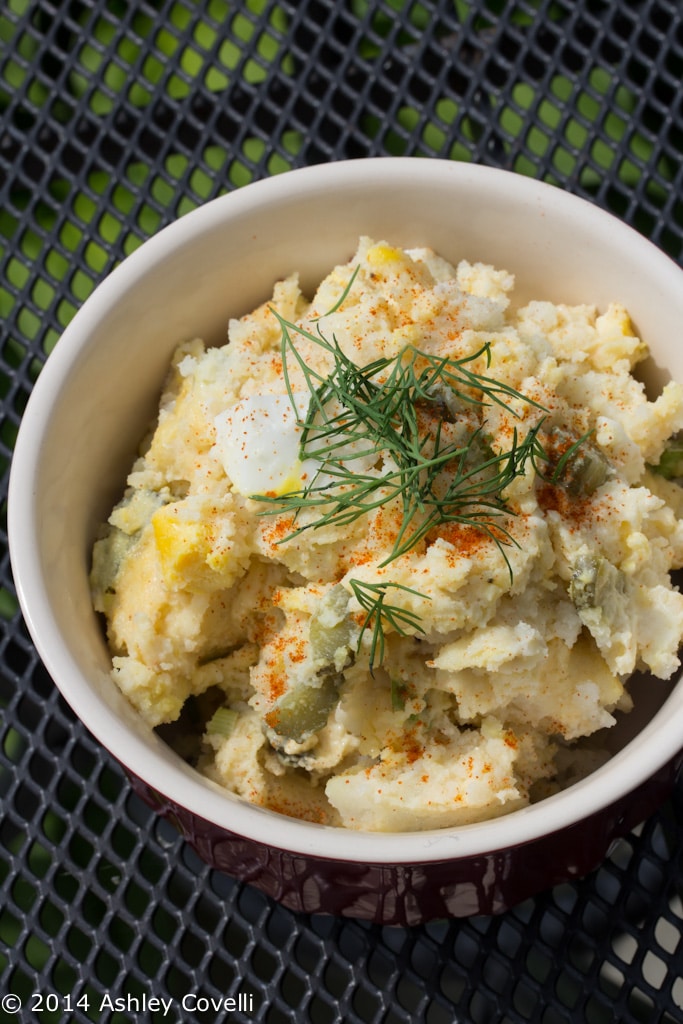 I used half Dijon and half yellow mustard - the combination worked really well. I roughly chopped the eggs and pickles before adding them to the salad.
I'll definitely be making this again - it was absolutely delicious!
Perfect Potato Salad
The Pioneer Woman - Ree Drummond
5 pounds Russet Potatoes (about 8 Medium Russets)
1-½ cup Real Mayonnaise (NOT Miracle Whip)
4 Tablespoons Prepared Mustard (regular, Dijon Or A Mixture Of Both)
5 whole Green Onions, Sliced Up To The Darkest Green Part
8 whole Small Sweet Pickles (may Use Dill If That's More Up Your Alley)
1 teaspoon Kosher Salt (more To Taste)
½ teaspoon Paprika
½ teaspoon Black Pepper
4 whole Hard Boiled Eggs
Cut potatoes in halves or thirds, then boil until fork tender. Drain. Mash potatoes or run them through a ricer or food mill to make them extra fluffy. Fold potatoes together with mayonnaise, mustard, green onions, salt, pepper, and other seasonings you like. Fold in pickles and eggs, then taste for seasonings, adding more salt, mustard, or mayo as needed. You may also splash in juice from the pickle jar if salad needs a little moisture.
Serve with baked beans, coleslaw, pasta salad, burgers … and two pieces of pie.
And that's an order.
Big Flavors Rating: 5 Stars