This post may contain affiliate links, which won't change your price but will share some commission.
We had an Asian inspired dinner party a few weeks ago, and I wanted a simple side dish to go with some ribs that I had marinating. It had been a while since I made peanut noodles, so I looked up a new recipe to try out. It was a big hit!
The sauce for these noodles is creamy with just the right amount of heat. We all enjoyed the combination of crunchy veggies on top, and the colors were beautiful.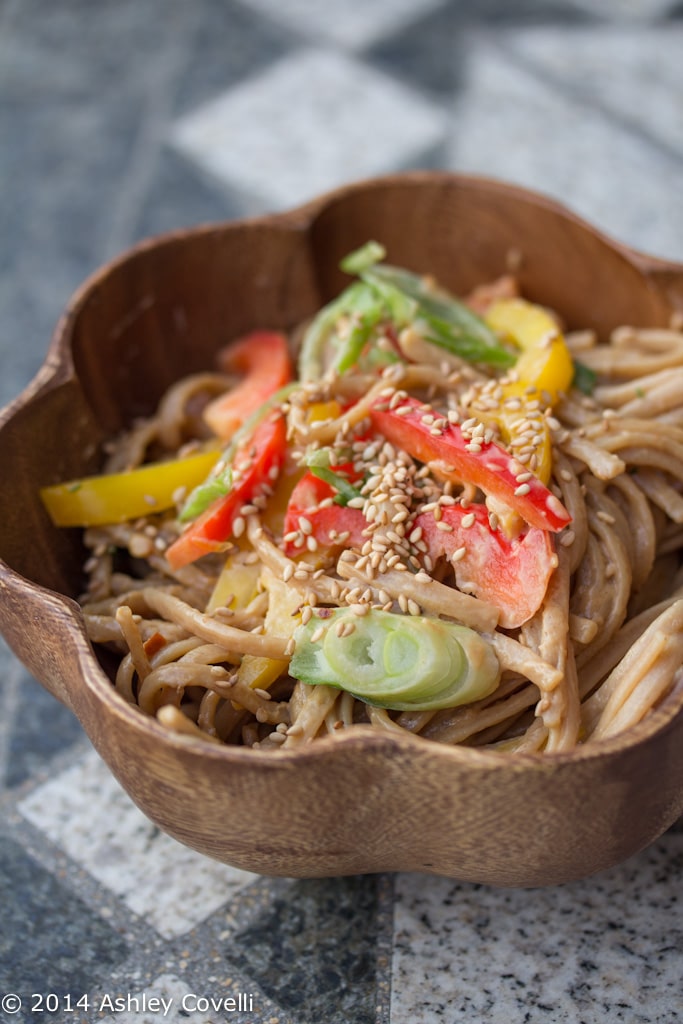 This dish comes together pretty quickly. You can cut all the veggies and make the sauce while you boil the water and cook the pasta. I used whole grain spaghetti and it worked out really well. It was interesting having this be a little warm when we ate it – I'm used to eating these type of noodles chilled. But they were great cold as leftovers, too. Yum!
Peanut Sesame Noodles
Gourmet June 2002
Makes 6 side-dish or 4 vegetarian main-course servings
Active time: 30 minutes
Total time: 30 minutes
The secret to this Chinese favorite is not to let the noodles sit in the sauce very long — toss them together a few seconds before serving.
For peanut dressing
1/2 cup smooth peanut butter
1/4 cup soy sauce*
1/3 cup warm water
2 tablespoons chopped peeled fresh ginger
1 medium garlic clove, chopped
2 tablespoons red-wine vinegar
1 1/2 tablespoons Asian sesame oil
2 teaspoons honey
1 teaspoon dried hot red pepper flakes
For noodle salad
3/4 lb dried linguine fini or spaghetti*
4 scallions, thinly sliced
1 red bell pepper, cut into 1/8-inch-thick strips
1 yellow bell pepper, cut into 1/8-inch-thick strips
3 tablespoons sesame seeds, toasted
Make dressing:
Purée dressing ingredients in a blender until smooth, about 2 minutes, then transfer to a large bowl.
Make salad:
Cook pasta in a 6- to 8-quart pot of boiling salted water until tender. Drain in a colander, then rinse well under cold water.
Add pasta, scallions, bell peppers, and sesame seeds to dressing, tossing to combine, and serve immediately.
Optional: use Gluten Free
Big Flavors Rating: 4 Stars