This post may contain affiliate links, which won't change your price but will share some commission.
My kitchen is finally back in proper working order. We still have to have the walls finished up, paint and do the backsplash - but the functional stuff is finally done (we got plumbing hooked up to the sink and dishwasher today). I'm so excited! So my first "real" meal was this lovely ravioli recipe. It only took a few ingredients (I only had to buy 2 things!) and it was really delicious. I'd love to try using this filling with homemade pasta dough sometime. It was the perfect balance of sweet and savory - yum! This is another winner that I got from the epicurious iPod app. I'll definitely make it again!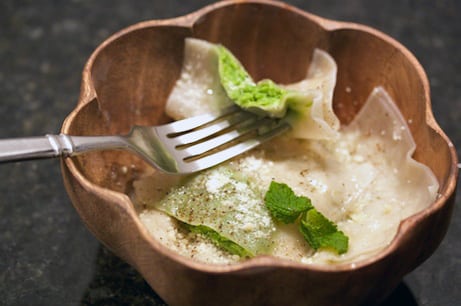 Pea and Parmesan Wonton Ravioli
Gourmet May 2009
2 ⅔ cups frozen peas (¾ pound)
⅓ cup grated parmigiano-reggiano plus additional for serving
2 teaspoons chopped mint
About 64 dumpling or wonton wrappers
¾ stick unsalted butter, melted
Cook peas in boiling salted water until just tender, 3 to
4 minutes. Drain and cool, then purée in a food processor. Stir in cheese, mint, and ½ teaspoon each of salt and pepper.
Put a rounded teaspoon filling in center of a wrapper. Lightly brush edge of wrapper with water, then place a second wrapper on top and seal, pressing out any trapped air. Repeat with remaining wrappers and filling, keeping ravioli covered as you work.
Boil ravioli in 2 batches in a pasta pot of salted boiling water until tender, 2 to 3 minutes per batch, removing with a slotted spoon. Drizzle with butter and sprinkle with cheese and pepper.
MacGourmet Rating: 5 Stars