Flaky, pan-seared salmon is nestled atop a bed of farro and wilted arugula, then topped with a tangy Brussels sprout salad. A dollop of horseradish sour cream adds the perfect kick!
The farro and arugula is nice and hearty, and the earthy, sweetness of the beets ties it all together.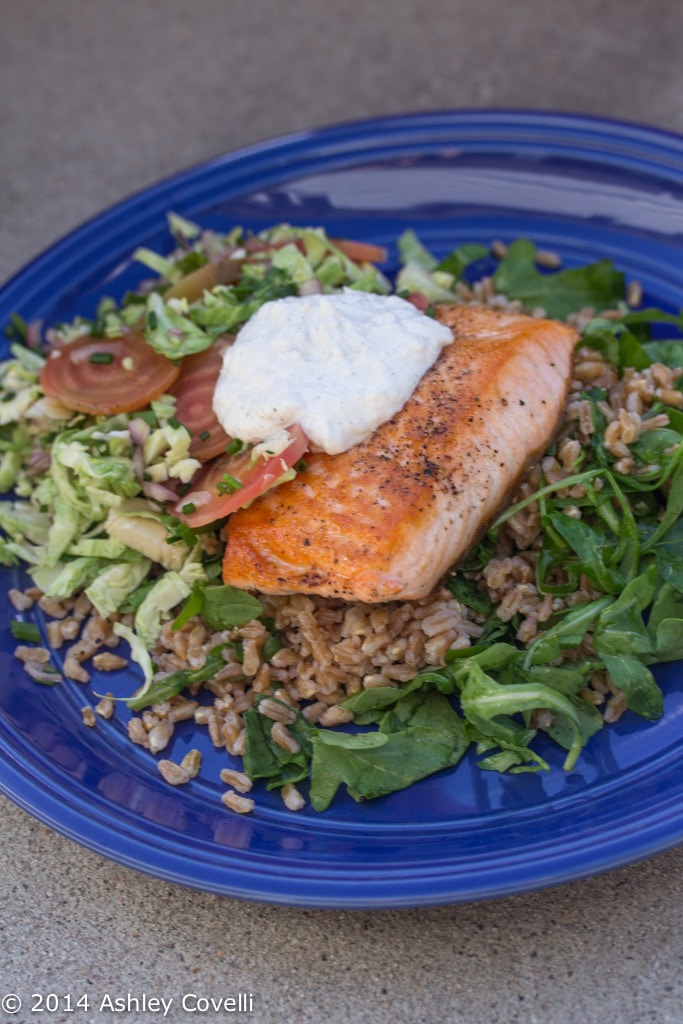 This salmon dish is the first time I grated my own horseradish for a recipe! We really enjoyed the combination of flavors in this one.
Just a note – the recipes from Blue Apron call for "1 bunch" of herbs, and that correlates to the size of the "bunch" they send if you're using their service (which I'm absolutely in love with!). I'd say their bunches are about 1-2 tablespoons.
2 Salmon Fillets
¾ Cup Pearled Farro
3 Ounces Brussels Sprouts
2 Ounces Arugula
6 Ounces Baby Candy Stripe Beets
1 Bunch Chives
1 1-Inch Piece Fresh Horseradish
1 Shallot
1 Tablespoon Sherry Vinegar
¼ Cup Sour Cream
See Blue Apron for the full recipe.