I chose this Blue Apron meal because it called for 2 ingredients that I don't particularly care for - fennel and sunchokes. Over the last few years, I've had quite a bit of success with trying to enjoy foods that I didn't previously enjoy (seafood, blue cheese,beets and tarragon to name a few). I've found that trying them in various preparations with different combinations of ingredients can really help.
Earthy vegetables and rosemary are roasted until golden and topped with tender chicken and a lemon-infused saba-grape sauce. Fennel fronds act as an herbaceous garnish for this warm, comforting dish.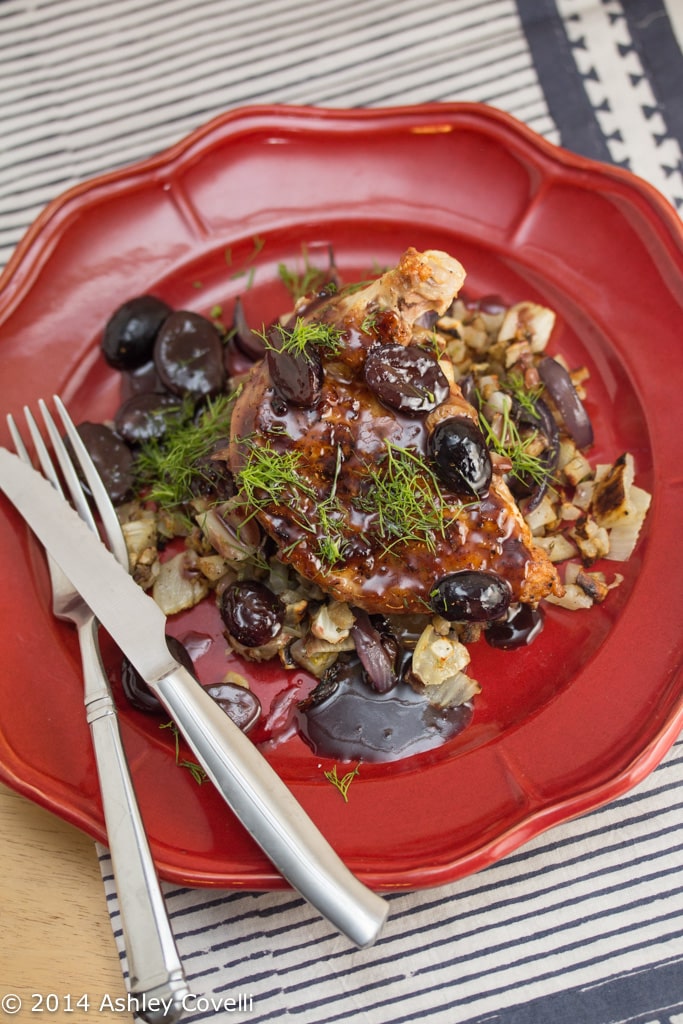 While I still don't love the flavor of sunchokes, they weren't bad in this dish. Fennel is really growing on me. When it's roasted like this, it gets nice and sweet and isn't overly licorice-y. My husband really enjoyed this meal, and I was pretty happy with it too.
Just a note – the recipes from Blue Apron call for "1 bunch" of herbs, and that correlates to the size of the "bunch" they send if you're using their service (which I'm absolutely in love with!). I'd say their bunches are about 1-2 tablespoons.
2 Airline Chicken Breasts
4 Ounces Black Grapes
1 Fennel Bulb With Fronds
1 Lemon
10 Ounces Purple Top Turnip
1 Red Onion
½ Pound Sunchokes
1 Bunch Rosemary
2 Tablespoons Butter
1 Tablespoon Saba
See Blue Apron for the full recipe.