This post may contain affiliate links, which won't change your price but will share some commission.
This is a really tasty vegan meal that I found over at Vegan Yum Yum a while back. It's a really delicious and hearty recipe, and we even had a little bit leftover (We almost always finish up a block of tofu between the two of us, so this was a big surprise). I used the rest of the kale that we got from the garden fairy last week, and it was great!
I found that the easiest way to handle the dipping sauce was just to pour a little over the tofu and noodles on the plate, because it can be tricky dipping slippery tofu and noodles in something that liquidy. I didn't try this out in my cast iron skillet, because I didn't want to get frustrated if the noodles or tofu started sticking. I have a great nonstick pan that got the tofu nice and brown. One of the best parts of this dish is the caramelized garlic bits that end up in the pan. Yum! I'll definitely be making this one again.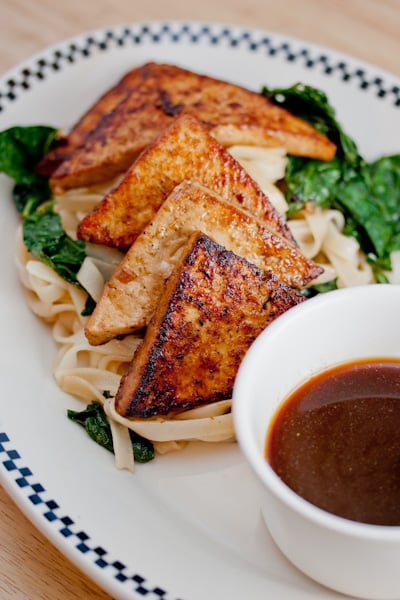 Pan Fried Tofu, Kale, and Stir-Fried Noodles
Vegan Yum Yum
Serves Two
1 Package Extra/Super Firm Tofu
1 Head Kale, deveined and torn
5 oz. Dried, Wide Rice Noodles (Mine come in 10 oz packages)
Sugar
Soy Sauce
Tofu Marinade
¼ Cup Water
¼ Cup Soy Sauce or Tamari
1 Tbs Thinly Sliced Ginger (or minced)
1 Tbs Maple Syrup
1 Tbs Oil
1 Tbs Seasoned Rice Vinegar
1 Garlic Clove, minced
½ teaspoon Mustard
¼ teaspoon Sriracha or Hot Chili Sauce
Black Pepper, to taste
Dipping Sauce
¼ Cup Soy Sauce or Tamari
¼ Cup Water
1 Tbs Seasoned Rice Vinegar
1 teaspoon Mustard
1 teaspoon Sriracha
Begin by pressing the tofu. I wrap my tofu in a single paper towel, then in a bar towel, and place a cast iron pan on top for 15 or so minutes. The paper towel prevents bar towel fuzz from getting on the tofu, while the terry cloth bar towel sucks out a ton of water.
While the tofu is pressing, whisk together the marinade. I used a mandoline to cut the ginger into paper-thin slices: that way some cooks with the tofu and you get mild bits of ginger on the finished tofu. You can mince the ginger if you don't have a mandoline available.
Cut the tofu into 8 equal sized rectangles and let it sit in the marinade for about 30 minutes, turning halfway through. Meanwhile, boil the rice noodles and cook for 6 minutes, until just tender.Rinse in cold water and drain as well as you can, set aside. I also cut my noodles with scissors to prevent them from being too long.
Whisk together the dipping sauce, and set aside.
Heat a large cast-iron pan over medium-high heat. Lightly oil the pan, just enough so the it's shiny. Once the pan is very hot, add the tofu. If your pan is seasoned, you shouldn't have any issues with the tofu sticking. Brown the tofu on one side, flip, and brown on the otherside. I then spoon extra marinade over the tofu and flip every few minutes. In all, I cook the tofu for around 10 minutes, until it looks like the tofu will be burnt if I leave it on any longer. Remove tofu from the pan and let it rest while finishing the dish.
Heat a little more oil in your pan, add the kale. Once softened, add the noodles and toss. If they stick, that's okay. Use a metal spatula to remove them; the crispy bits are tasty. Add more oil, enough to coat the noodles, if needed.
Flavor the noodles lightly with a sprinkle of soy sauce and a pinch of sugar. Plate the noodles and kale. Slice the now firmed (but still warm) tofu and place on top. Serve with dipping sauce.
Leftover tofu is wonderful in sandwiches. Happy holidays!
Big Flavors Rating: 5 Stars