This post may contain affiliate links, which won't change your price but will share some commission.
A very generous coworker of mine (who apparently has a garden bigger than my entire house!) was kind enough to bring in some fresh produce for me today. One of the things she brought in was fresh kale. I've only cooked with kale a few times, and have been pretty happy with the results, so I was anxious to try out a new recipe. I came across this one, and it was great! The beauty of this recipe is its simplicity. I had a few things really working in my favor - the kale was super fresh, a fantastic chunk of Parmesan in my fridge and awesome turmeric from Penzeys that's so much more flavorful than the stuff I used to use. This dish comes together pretty quickly. The garlic gets nice and caramelized in the pan, which imparts a ton of flavor. For my kale, I didn't need to cook it another 10 minutes uncovered - it was perfect after the first 10 minutes. This is a simple and delicious vegetarian dish that I'll most likely be making again!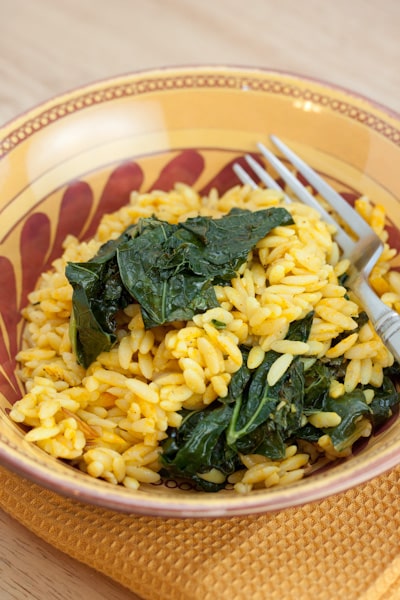 Orzo with Kale
Allrecipes - Sunaina
"A light summer dish. Great with white wine."
Prep Time: 10 Min
Cook Time: 25 Min
Ready In: 35 Min
Yield 5 cups
1 teaspoon ground turmeric
2 cups uncooked orzo pasta
2 tablespoons olive oil
4 cloves garlic, sliced
1 bunch kale, stems removed and leaves coarsely chopped
1 large lemon, juiced
¼ teaspoon ground nutmeg
¼ cup grated Parmesan cheese, or to taste
salt and black pepper to taste
Bring a large pot of lightly-salted water to a boil; sprinkle the turmeric over the boiling water and stir in the orzo; return to a boil. Cook uncovered, stirring occasionally, until the pasta has cooked through, but is still firm to the bite, about 11 minutes; drain. Scrape into a mixing bowl and set aside.
Heat the olive oil in a large skillet over medium heat. Cook the garlic in the hot oil for a few seconds until it begins to bubble. Stir the kale into the garlic, cover the skillet with a lid, and cook for 10 minutes. Remove the cover and continue cooking and stirring until the kale is tender, about 10 minutes more. Stir the kale mixture into the orzo along with the lemon juice, nutmeg, and Parmesan cheese. Season with salt and pepper. Serve warm or at room temperature.
Nutritional Information:
Amount Per Serving Calories: 206 | Total Fat: 4.2g | Cholesterol: 2mg
Big Flavors Rating: 4 Stars