This post may contain affiliate links, which won't change your price but will share some commission.
I developed this recipe for Gourmet Warehouse. I received promotional items, but was in no other way compensated for this post. As always, all opinions are 100% my own. 
Quick-cooking shrimp are a wonderful weeknight option. There are so many ways you can add flavor, but sometimes you just want someone else to do the hard work for you. So when I was given the chance to try out a few marinades and BBQ sauces from Gourmet Warehouse, I jumped right in.
Their products are hand crafted, small batch mixtures that aren't full of unpronounceable ingredients. I thought that the flavors of oregano and lemon in their Classic Greek Marinade would go perfectly with shrimp.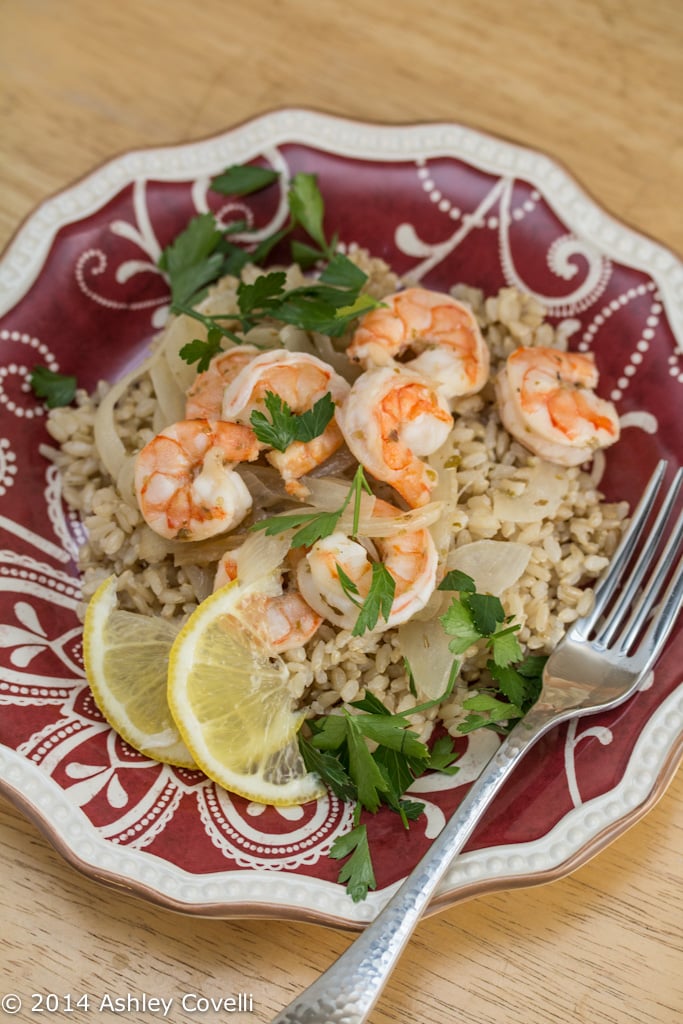 This marinade packed a TON of flavor in the 2 hours I let it infuse the shrimp. It was garlicky and delicious, and could rival any of the Greek meats I've had out at my local Greek restaurant. The only warning I'd give is that it says to shake the bottle well, which I did, and when I opened it, it sprayed out all over the place. Kind of like shaking up a can of soda and opening too soon. So be careful with it!
Served over brown rice, this was a simple and delicious dinner. I'm glad I still have some marinade left in the bottle to use up later. I'm looking forward to trying out the other samples, too!
No-Fuss Greek Marinated Shrimp
Big Flavors from a Tiny Kitchen - Ashley Covelli
1 pound large shrimp, peeled and deveined
¾ cup Gourmet Warehouse Classic Greek Marinade
1 tablespoon extra-virgin olive oil
1 medium onion, halved and vertically sliced
Flat leaf parsley, chopped, for garnish
Lemon wedges, for garnish
Place shrimp and marinade in a large bowl and toss to coat. Cover and refrigerate for 2 hours.
Heat oil in a large, non-stick skillet over medium-high heat. Add onions and sauté, stirring occasionally, until translucent. Add shrimp and sauté, stirring occasionally, until the shrimp are pink and just cooked through (about 3-4 minutes total).
Serve shrimp over rice or pasta if desired, and garnish with parsley and lemon wedges. Enjoy!
Big Flavors Rating: 4 Stars
If you have a product that you feel would be of interest to myself and my readers, you can submit information for review via my contact page.