This post may contain affiliate links, which won't change your price but will share some commission.
This was another make-ahead recipe for our holiday get together. Cream sherry is something that I bought yeeeeeears ago to make Spice-Rubbed Cornish Hens with Haroseth Stuffing and Sherry Jus (which turned out AWESOME!) for my Supper Club and I don't think I've used it since. Uh, yeah, I'm obviously not the type to worry about vinegar expiring haha! Anyhow, I was glad to find another recipe to use some of that in. These mushrooms turned out great! They weren't quite as good as the other Marinated Mushrooms that I've made a few times before, but they were still great.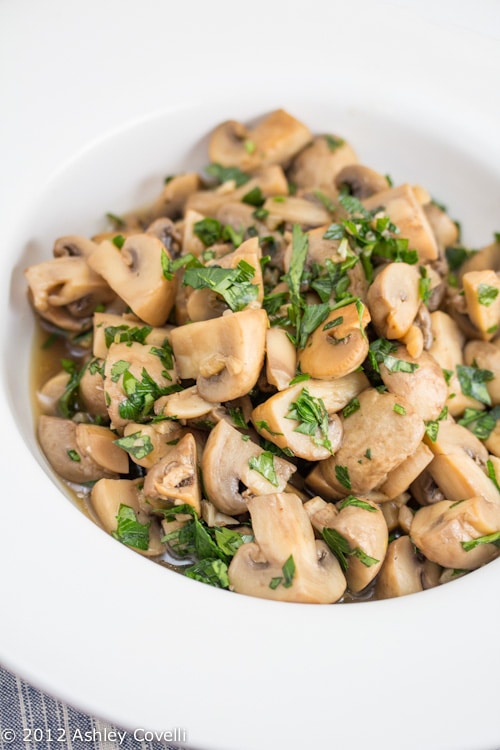 Sherried Mushrooms
Eating Well March/April 2007
Tapas are not always fancy—usually they're just a few simple ingredients prepared well, like these tender, juicy mushrooms. Just place a dish of toothpicks next to the serving dish and let guests help themselves.
12 servings, ½ cup each
Active Time: 40 minutes
Total Time: 40 minutes
3 pounds white mushrooms, trimmed
1 tablespoon extra-virgin olive oil
¾ cup cream sherry, (see Tip)
8 cloves garlic, minced
2 tablespoons lemon juice
½ teaspoon kosher salt
Freshly ground pepper, to taste
2 tablespoons minced fresh parsley
Clean mushrooms and cut in half (or quarters if large). Heat oil in a large skillet or Dutch oven over medium-high heat. Add mushrooms and cook, stirring, for 10 minutes. Stir in sherry and garlic and continue cooking, stirring occasionally, until most of the juices have evaporated, 10 to 14 minutes. Stir in lemon juice and season with salt and pepper. Stir in parsley just before serving.
Make Ahead Tip: Cover and refrigerate for up to 1 day. Bring to room temperature before serving.
Tip: Cream sherry is a fortified wine used to flavor sauces. Find it near other fortified wines in your wine or liquor store. Opened bottles will keep in a cool, dry place for months.
NUTRITION
Per serving: 53 calories; 1 g fat ( 0 g sat , 1 g mono ); 0 mg cholesterol; 7 g carbohydrates; 0 g added sugars; 2 g protein; 0 g fiber; 145 mg sodium; 491 mg potassium.
Nutrition Bonus: Potassium & Selenium (14% daily value).
Carbohydrate Servings: ½
Exchanges: 1 ½ vegetable
Big Flavors Rating: 4 Stars