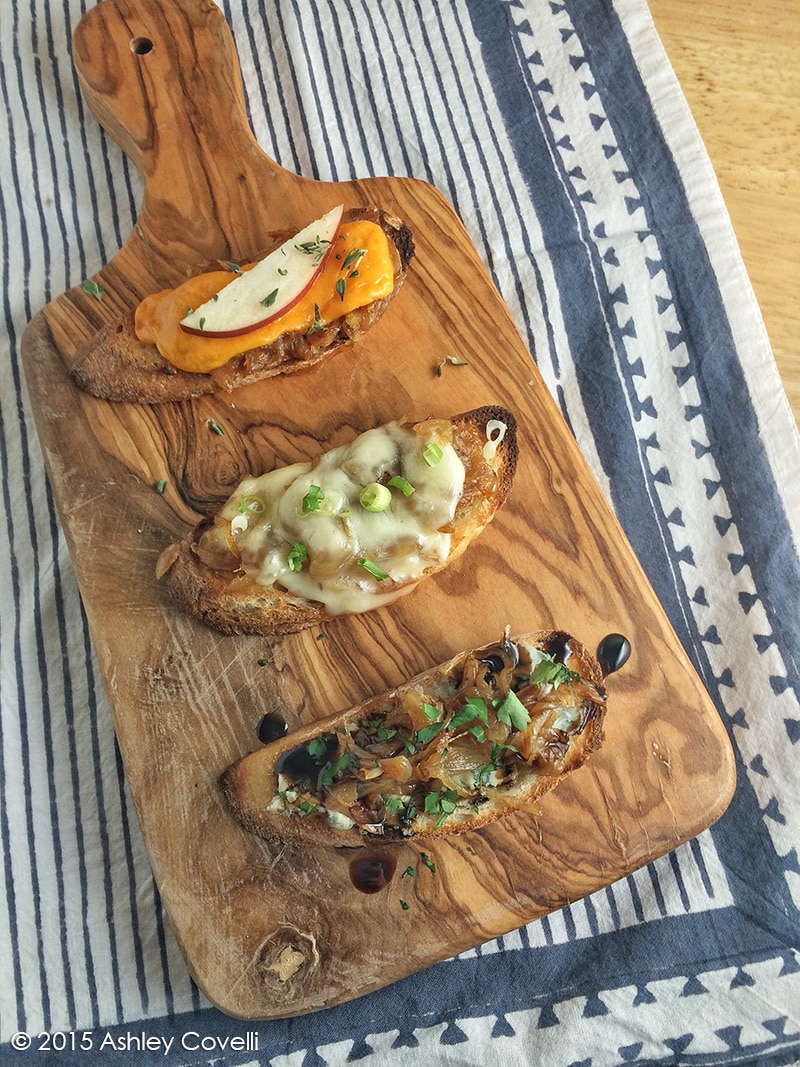 French Cheese + Caramelized Onion Crostini Trio
This post may contain affiliate links. Thank you for supporting the brands that keep me creative in my tiny kitchen!
This post was created in partnership with the French Cheese Board. As always, all opinions are 100% my own.
Most people who know me are familiar with my love affair with cheese. No, it's not just because I lived in Wisconsin for about a decade before heading to New York, but that certainly didn't hurt.
I've been known to go into a restaurant and order a cheese plate before sharing cheese fondue for the main event. Maybe even follow it up with a slice of cheesecake if I'm feeling bold. Who's judging?
So when I was invited to a cheese-centric cocktail party hosted at NYC's French Cheese Board, I was beyond stoked to attend. And having a cheese-infused cocktail or 3 was something that I was thrilled to check off of my culinary bucket list!
I also met a new favorite cheese – this beautifully vibrant Mimolette. It looks like a big, dusty cannonball on the outside and is notoriously difficult to open. The rough, floral exterior gives way to a bright orange cheese that's smooth and creamy with a sweet, butterscotch-y flavor.
I also learned that the appearance is due to tiny mites, and I am totally OK with that. They made that cheese phenomenally delicious, and I applaud their effort!
I loved the way all of the cheeses at the event were incorporated into both cocktails and hors d'oeuvres, and couldn't wait to get my hands on some of my favorites from the evening to work with in my tiny kitchen.
For New Year's Eve, I had planned on sampling the cheeses at home with some wine, followed by a round of deliciously cheesy appetizers and then dinner.
Let's just say that we ended up loving the cheeses and apps so much that we ended up having that as our last dinner of the year.
I couldn't have picked a better way to end 2015!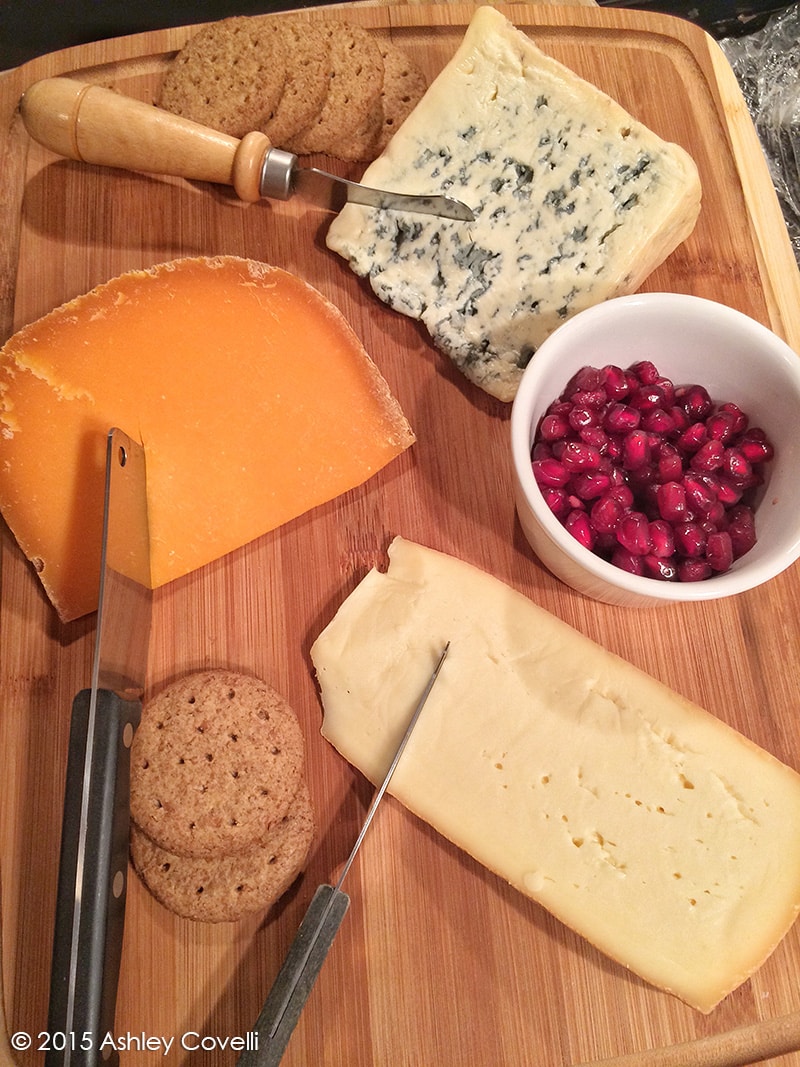 The 3 cheeses I chose to work with were the Mimolette, Bleu D'Auvergne (a wonderfully spicy, pungent, creamy blue cheese) and Raclette (a smoky, nutty cheese that's known for its silky smooth texture and meltability).
I wanted to do something that was simple enough yet showcased each cheese in a different way. I didn't want to be stress cooking my last meal of the year.
So I set out with my biggest cast iron skillet and made a giant batch of caramelized onions and got a few different toppings together while they were cooking away.
I'm not going to be one of those people who lies about how long it really takes to make deeply caramelized onions. You're going to need an hour, minimum (and if you're like me and made a way too big batch, you'll need 2 hours because the pan was a bit crowded). But the time is mostly unattended, stirring occasionally, sipping some wine and chatting away with whoever happens to be in the kitchen with you that day.
Your efforts will be rewarded. Trust.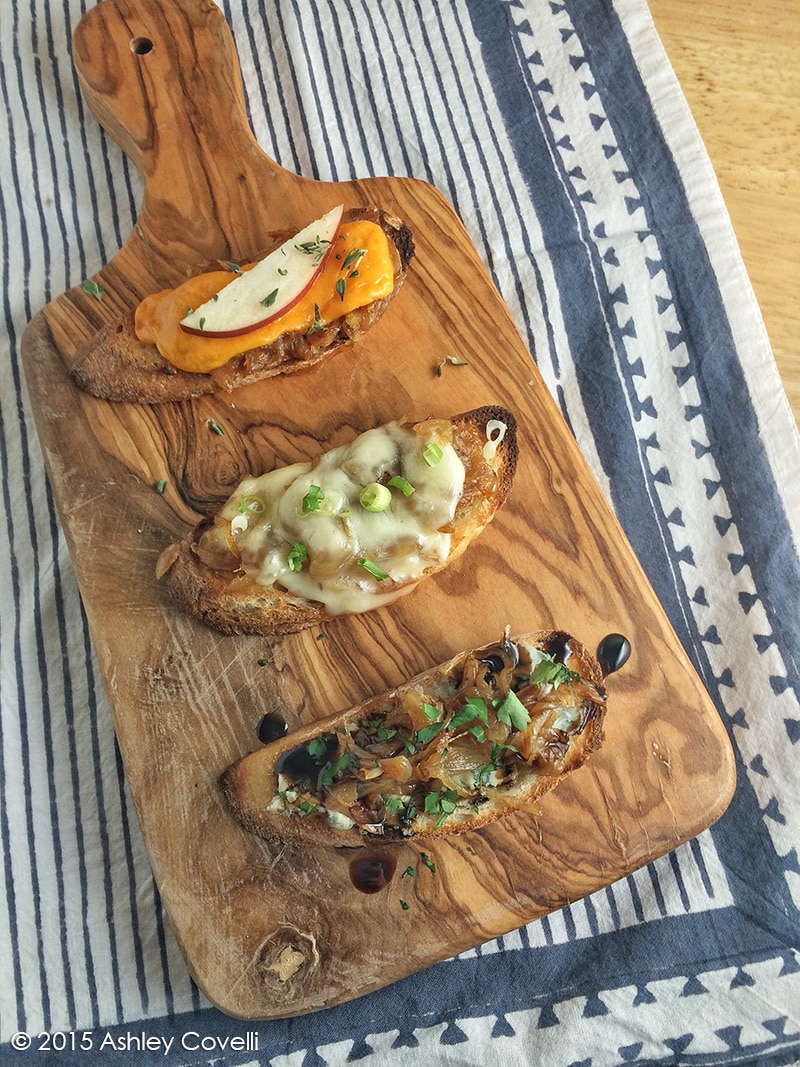 Once the onions were done, I toasted up a baguette and got to mixing and matching the perfect combinations of toppings.
The Bleu D'Auvergne was smeared onto a few toasted slices, topped with caramelized onions, aged balsamic and fresh parsley.
The rest of the baguette slices got rubbed with garlic while still hot. Half of those got caramelized onions topped with Raclette, melted, and finished with green onions. The other garlicky baguette slices got caramelized onions topped with Mimolette, melted, and finished with a thin slice of apple and fresh thyme.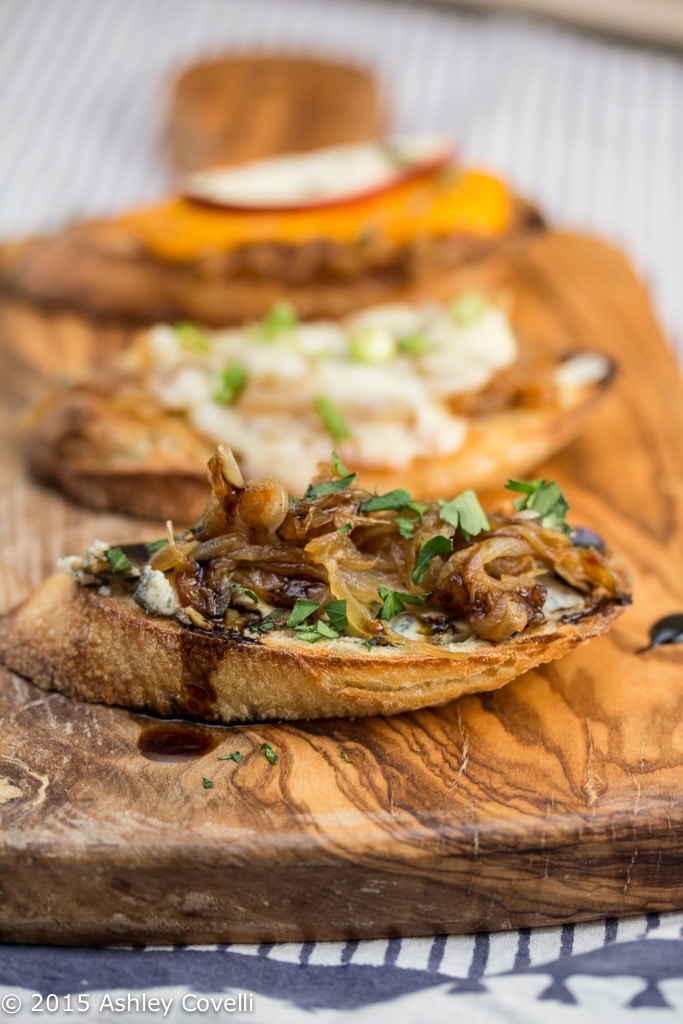 Both my husband and I were floored by how great each combination was on its own. Neither of us could pick a favorite.
It was a seriously delicious meal – one I'll gladly repeat any time!
Are you celebrating National Cheese Lovers Day? Let me know what your favorites are in the comments below!
Print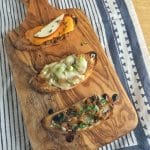 French Cheese + Caramelized Onion Crostini Trio
---
---
---
---
Recipe Card powered by