This post may contain affiliate links, which won't change your price but will share some commission.
I wanted to try cooking with mussels, since I've heard how easy it is. The only problem I ran into was that it was kind of tricky debearding them all. Other than that, it ended up being an elegant and tasty dinner.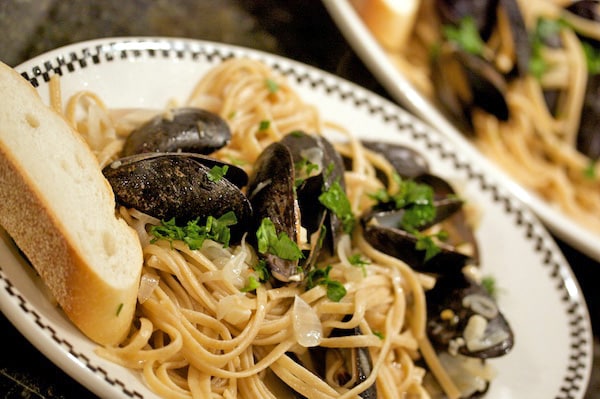 Mussels with Shallots, Garlic & White Wine over Linguine
Ashley Covelli
I melted about 5T of butter in a large skillet with the same amount of olive oil. I added in 3 chopped shallots and 5 cloves of chopped garlic and let it cook slowly. Once everything was nice and soft, I added about a cup and a half of white wine and let it reduce. Then, I slid in a bag of mussels that I picked over, rinsed and debearded. It didn't look like quite enough liquid for the amount of mussels I had, so I added about a cup of water. I covered the pan and let it steam until they all opened. I served it over some whole wheat linguine that was cooked to al dente and tossed with some olive oil. I sprinkled chopped parsley over the top and served it with some nice slices of bread - perfect for dunking into the garlicky broth.
MacGourmet Rating: 4 Stars