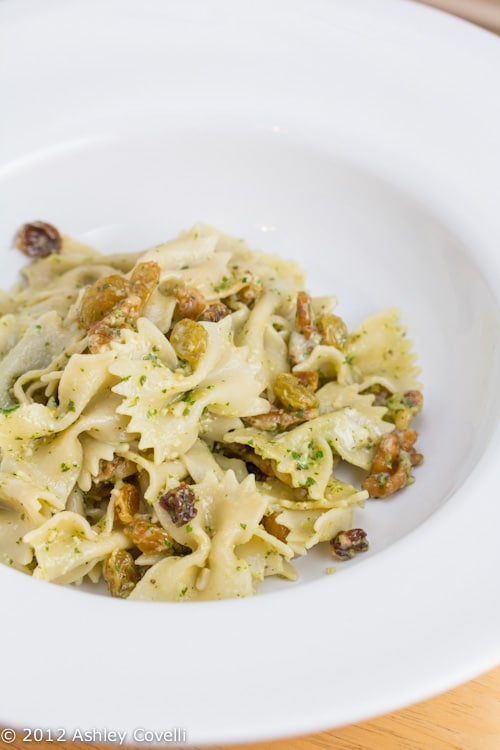 Moldy Cheese Day: Arugula-Walnut Pesto Farfalle
This post may contain affiliate links, which won't change your price but will share some commission.
I love these weird food holidays. I saw this one and thought it would be a great day to use up some of the leftover gorgonzola from when I made Quinoa Salad with Apple, Chickpeas, Toasted Almonds & Apple Cider Vinaigrette a few days ago. This was a really interesting combination of ingredients. The plump, sweetness from the raisins was great with the tang from the lemon zest and gorgonzola. The pesto is simple and tasty. This was a really nice, different spin on pasta, and we really enjoyed it.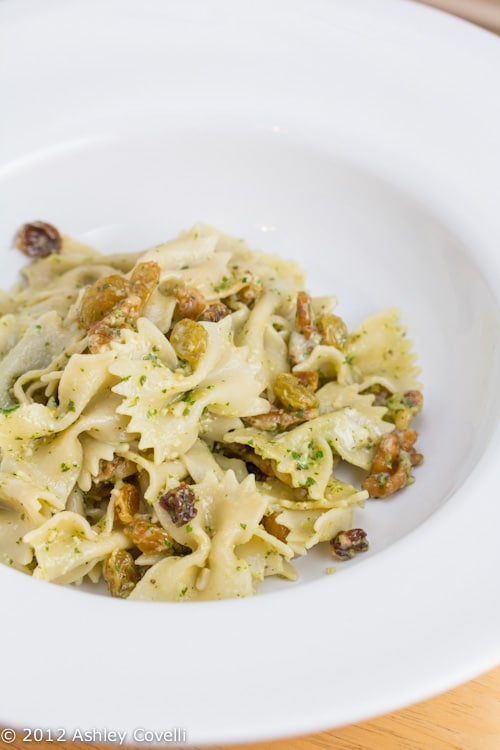 Arugula-Walnut Pesto Farfalle
Sunset June 2010
Yield: Serves 4
Total: 30 Minutes
12 ounces farfalle pasta
2 cups baby arugula
1 tablespoon lemon zest
1 tablespoon minced garlic
1 cup toasted walnut pieces, divided
3 tablespoons olive oil
1/2 teaspoon kosher salt
1/4 teaspoon pepper
3/4 cup crumbled gorgonzola cheese
1/2 cup golden raisins
1. Cook pasta according to package directions.
2. Whirl together arugula, zest, garlic, 1/4 cup walnuts, the oil, salt, and pepper in a food processor until blended, scraping inside of bowl as needed.
3. Drain pasta, reserving about 1/4 cup of the water. Return pasta to pot and add pesto, stirring to coat. Stir in remaining walnuts, the cheese, raisins, and reserved pasta water.
Note: Nutritional analysis is per 1 1/2-cup serving.
Amount per serving
Calories: 740
Calories from fat: 45%
Protein: 22g
Fat: 37g
Saturated fat: 8.1g
Carbohydrate: 84g
Fiber: 6.5g
Sodium: 535mg
Cholesterol: 19mg
Big Flavors Rating: 4 Stars