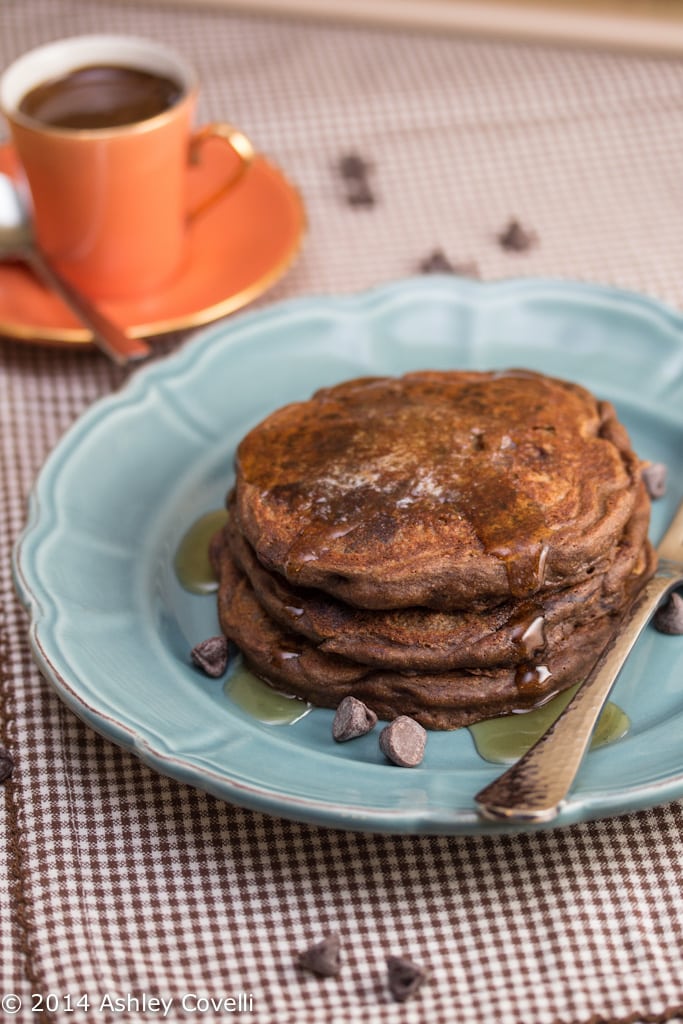 This post may contain affiliate links, which won't change your price but will share some commission.
Pancakes are always a big hit in my house. Breakfast, lunch, dinner or any time in between. I just love that it's perfectly acceptable to eat a pile of cake and call it a meal.
My husband usually makes big breakfasts on the weekends, but occasionally I'll step in and make something more involved than our usual go-to breakfast staples. So when Stonyfield reached out to me to come up with a pancake recipe to celebrate National Pancake Month, I was excited to get creative with it!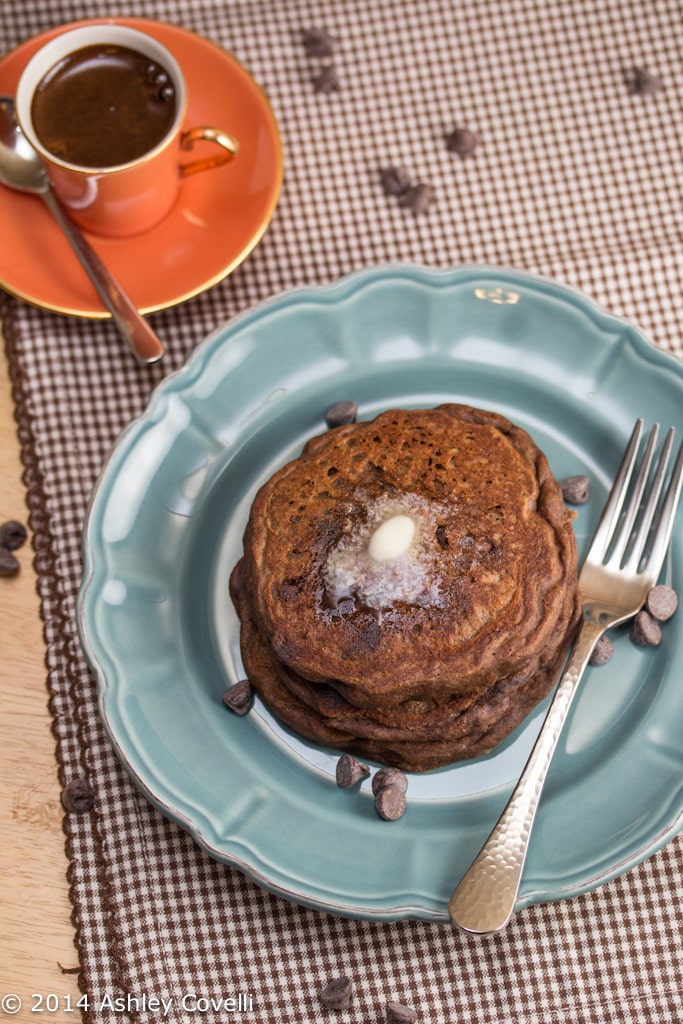 These chocolatey pancakes are made with a mix of fat free yogurt and milk. I also swapped out half of the white flour for whole wheat. It gives them a nice texture and makes them healthier than your standard pancakes.
But then I went and added espresso.
And cocoa powder.
And chocolate chips.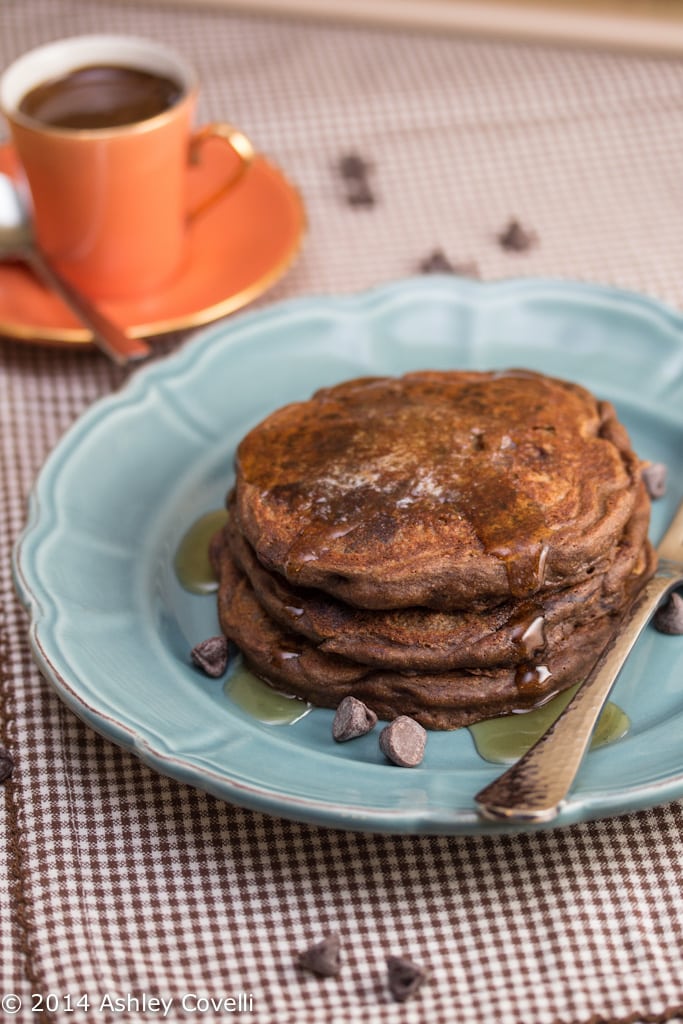 Go big or go home.
These pancakes are absolutely wonderful. The bitterness of the espresso pairs so beautifully with the chocolate. The chocolate chips get all nice and melty inside, and topped with a pat of butter and a drizzle of pure maple syrup, breakfast is served!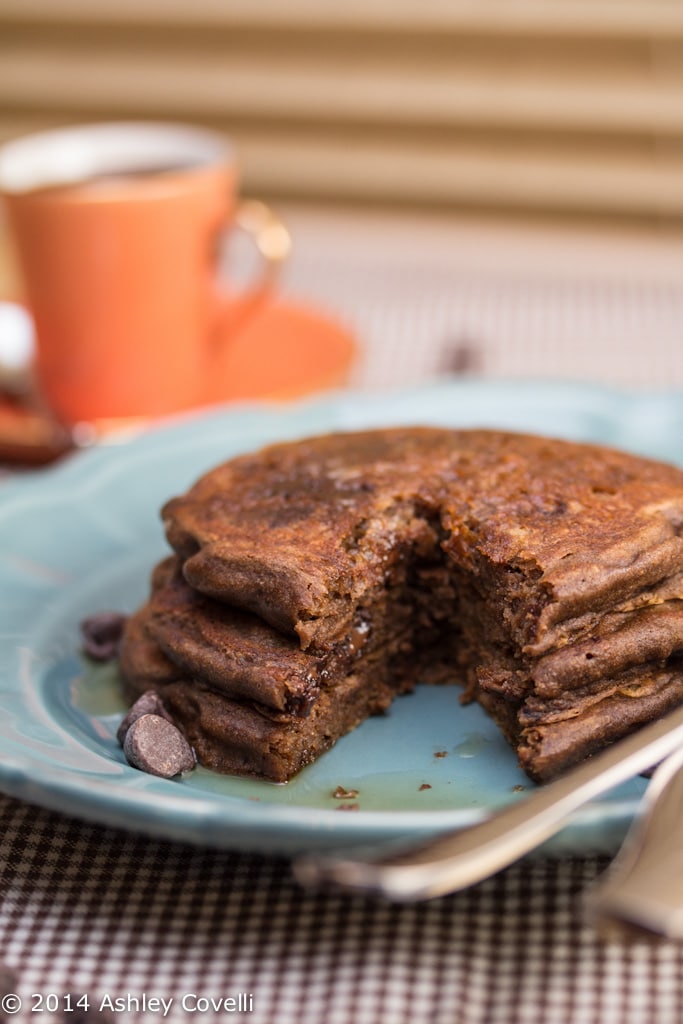 Mocha Chip Pancakes
Big Flavors from a Tiny Kitchen – Ashley Covelli
Makes approximately 12 pancakes
2 tablespoons unsalted butter
1 tablespoon raw sugar
1/2 cup whole wheat flour
1/2 cup all purpose flour
1 tablespoon Dutch process cocoa powder
2 teaspoons baking powder
1 teaspoon baking soda
1/2 teaspoon salt
1 1/4 cups reduced fat milk, divided
1 tablespoon instant espresso granules
1/2 cup Stonyfield Organic Fat Free Plain Yogurt
1 large egg
1/3 cup semi-sweet chocolate chips
Melt butter in a small bowl. Stir in raw sugar and set aside to cool.
In a large bowl, whisk together flours, cocoa powder, baking powder, baking soda and salt.
Heat 1/2 cup of the milk in the microwave until warm (about 45 seconds – 1 minute). Stir in instant espresso granules until dissolved. Add the remaining 3/4 cup of cold milk to cool down the mixture. Add yogurt and egg and whisk until well combined.
Add the wet ingredients to the dry and whisk until just barely combined – some lumps are perfectly fine, you just don't want to see streaks of powder here. Add in chocolate chips and stir gently to incorporate. Let stand for 5 minutes.
Preheat griddle to 375°F. Grease griddle with cooking spray. Use an ice cream scoop or small ladle to drop equal portions of batter onto the hot griddle. Cook until pancakes are covered with bubbles that begin to pop, and the edges are darkening slightly. Flip and continue to cook for another 2 minutes.
Big Flavors Rating: 4 Stars
I am honored to be a member of the Stonyfield Clean Plate Club. I received product or coupons for writing this post, but all opinions are my own.