Melon and Prosciutto Salad with Parmigiano-Reggiano
This post may contain affiliate links, which won't change your price but will share some commission.
This is an easy and impressive starter course. The sweet and salty combination is wonderful. I used only cantaloupe, because the honeydew melon that I picked up didn't look too great on the inside. I can only imagine it being better with both melons. I really liked the slight bit of spice from the black pepper. This is a refreshing, summery twist on the classic cantaloupe wrapped in prosciutto appetizer.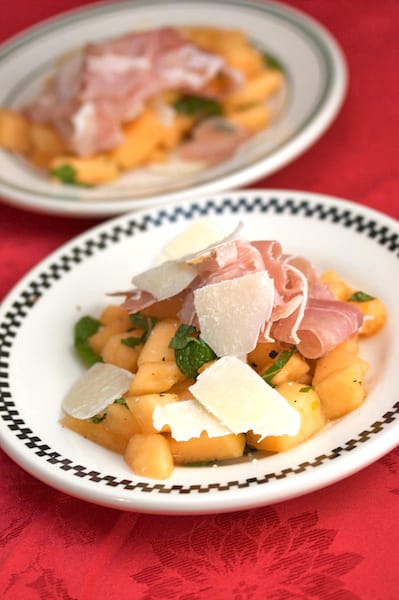 Melon and Prosciutto Salad with Parmigiano-Reggiano
Cooking Light July 2007
This colorful appetizer would be a fine addition to an antipasto spread. Parmigiano-Reggiano provides nutty contrast to sweet melons and mirrors the taste of salty prosciutto.
Yield: 8 servings (serving size: about 3/4 cup)
3 cups (1/2-inch) cubed honeydew melon (about 1/2 medium melon)
3 cups (1/2-inch) cubed cantaloupe (about 1 medium melon)
2 tablespoons thinly sliced fresh mint
1 teaspoon fresh lemon juice
1/4 teaspoon freshly ground black pepper
2 ounces thinly sliced prosciutto, cut into thin strips
1/2 cup (2 ounces) shaved fresh Parmigiano-Reggiano cheese
Cracked black pepper (optional)
Mint sprigs (optional)
Combine first 5 ingredients, tossing gently. Arrange melon mixture on a serving platter. Arrange prosciutto evenly over melon mixture; sprinkle with Parmigiano-Reggiano. Garnish with cracked black pepper and fresh mint sprigs, if desired.
Wine note: I adore the sweet-salty-herbal flavor of this salad. It's so refreshing and so summery. A good wine partner should exude the same characteristics. While you could opt for an Italian pinot grigio, I find a fuller-bodied California pinot grigio works even better, especially given the full flavors of the prosciutto, mint, and Parmigiano. A great choice: Estancia Pinot Grigio 2005 (California), $12. –Karen MacNeil
Nutritional Information:
Calories: 87 (30% from fat) Fat: 2.9g (sat 1.5g,mono 0.5g,poly 0.1g) Protein: 5.3g Carbohydrate: 11.1g Fiber: 0.6g Cholesterol: 11mg Iron: 0.4mg Sodium: 271mg Calcium: 94mg
MacGourmet Rating: 4 Stars