This post may contain affiliate links, which won't change your price but will share some commission.
I don't remember my stepmom cooking very often, but when she did, she usually made this goulash. I've asked her a million times how she makes it, and she always answers with, "oh, just throw whatever you have in the kitchen in there". So when she came out to visit for my baby shower, I told her that I was going to watch her make beef goulash so that I could write down what she adds to it. It's great comfort food, and you can use really cheap cuts of meat since it simmers for so long. And it's a good thing I didn't just use "whatever I had in the kitchen" in this, because stuff like hoisin sauce, sriracha and fennel pollen would not bring out the same results 😉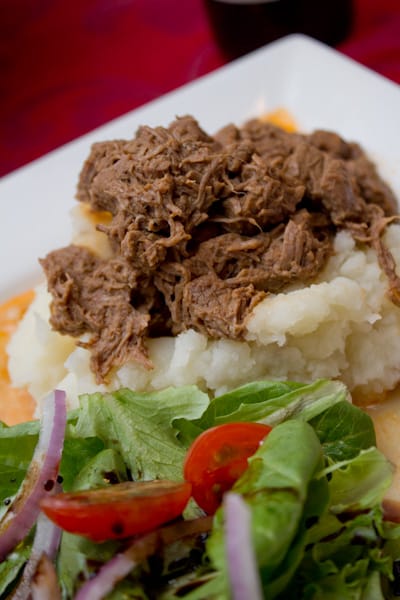 Mary-Ellen's Beef Goulash
Mary-Ellen Lewis
Serves 6
In a large saucepan, add the following and cook, stirring occasionally, until meat is no longer red on outside:
2 ½ pounds beef stew meat (can mix with flank steak), cut into cubes (1" to 2" - smaller is better for stew meat, so it breaks down faster)
salt
pepper
¼ c water
Let simmer for an hour, adding more water when needed to make sure there's enough to partially cover the meat in the pan.
Add:
⅓ c ketchup
1 ½ t mustard
⅔ c - 1 c water (add a little at a time until you like the consistency
½ t Worcestershire sauce
½ t soy sauce
pinch chili powder
Put lid on to partially cover the pot and let it simmer for about an hour, checking the water level occasionally to make sure it doesn't dry out. Taste for seasoning and add a few more tablespoons of ketchup & mustard if desired. Cook until it's at the desired consistency (meat should be falling apart and very tender).
Serve over mashed potatoes.
Big Flavors Rating: 5 Stars