This post may contain affiliate links, which won't change your price but will share some commission.
This was in a section of Ellie Krieger's recipes in the latest issue of Cooking Light (and the cover recipe). It's a classic combination - pork, maple and Dijon - that we always love. The pork was incredibly moist, and the squash puree was vibrant with a hint of citrus from the orange zest. It was a really nice meal. This was another recipe that we would give 4 ½ stars if we gave out ½ stars, but since we don't, it's getting a 4. It's a pretty easy recipe to put together, and it was definitely a hit!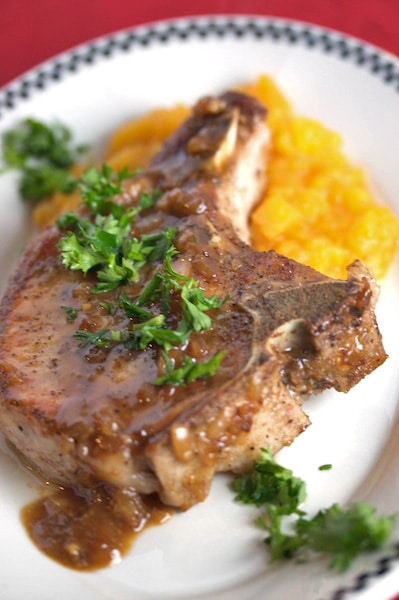 Maple-Mustard Pork Chops with Winter Squash Puree
Cooking Light March 2010
4 (6-ounce) bone-in center-cut pork chops
½ teaspoon salt, divided
¼ teaspoon freshly ground black pepper
Cooking spray
1 tablespoon butter
2 tablespoons finely chopped shallots
¼ cup fat-free, less-sodium chicken broth
2 tablespoons Dijon mustard
2 tablespoons maple syrup
2 tablespoons chopped fresh flat-leaf parsley
1. Sprinkle both sides of pork with ¼ teaspoon salt and pepper.
2. Heat a large skillet over medium-high heat. Coat pan with cooking spray. Add pork to pan; cook 3 minutes on each side or until cooked through, but with a slight blush in the center. Remove from pan; keep warm.
3. Return pan to medium-high heat. Add butter to pan, swirling pan to coat. Add shallots; sauté 3 minutes or until tender and translucent. Add broth; bring to a boil, and cook 1 minute. Stir in mustard, syrup, and remaining ¼ teaspoon salt; cook 1 minute or until slightly thick. Return pork to pan. Cook pork 1 minute on each side or until thoroughly heated (be careful not to overcook pork). Serve pork with sauce. Garnish each serving with 1 ½ teaspoons parsley.
Yield: 4 servings (serving size: 1 pork chop and 1 tablespoon sauce)
CALORIES 283 ; FAT 15.1g (sat 6.3g,mono 6.2g,poly 1g); CHOLESTEROL 84mg; CALCIUM 44mg; CARBOHYDRATE 8.2g; SODIUM 456mg; PROTEIN 27.1g; FIBER 0.3g; IRON 1.1mg
Quick Winter Squash Puree
This easy side comes together quickly with convenient frozen winter squash. Pair with Maple-Mustard Pork Chops or roast chicken for a simple, colorful, nutrient-rich dish.
Yield: 4 servings (serving size: ¾ cup)
⅓ cup fat-free, less-sodium chicken broth
2 (12-ounce) packages frozen cooked butternut squash
1 tablespoon butter
½ teaspoon grated orange rind
1 ½ teaspoons maple syrup
¼ teaspoon salt
¼ teaspoon freshly ground black pepper
1. Place broth and squash in a large saucepan over medium heat. Cover and cook 15 minutes or until thoroughly heated, stirring occasionally. Add butter and remaining ingredients; stir until combined.
Calories: 100
Fat: 3g (sat 1.8g,mono 0.8g,poly 0.2g)
Protein: 2.4g
Carbohydrate: 19g
Fiber: 4.9g
Cholesterol: 8mg
Iron: 1mg
Sodium: 204mg
Calcium: 37mg
Big Flavors Rating: 4 Stars