This post may contain affiliate links, which won't change your price but will share some commission.
This is a really tasty recipe. Maple and bacon go so well together, and the orange zest really livens it up. I cooked these in a cast iron skillet in some of the bacon drippings, and that worked pretty well. I don't know how it would really work on a grill though, because the glaze would drip down into the coals. I also think that cutting the bacon in half wasn't the best method - it probably would have worked better to be able to wrap a whole piece around the scallops. I think next time I'd deconstruct this and pan-sear all of the scallops, top them with the sauce and some crumbled bacon.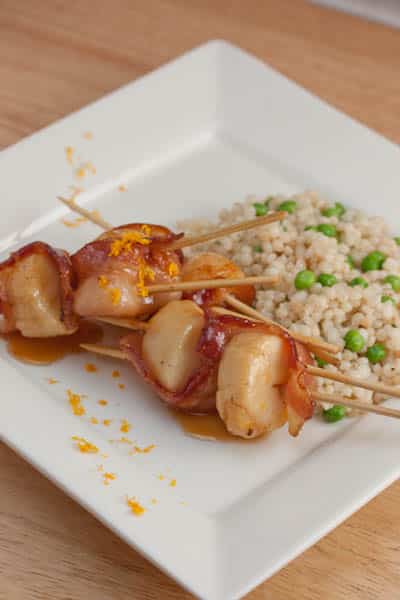 Maple-Glazed Scallops
Coastal Living September 2002
To prevent scallops from rotating, use 2 skewers for each kebab.
Yield: 6 servings
12 bacon slices, cut in half
24 large sea scallops (about 2 pounds)
1 cup maple syrup
2 tablespoons butter, melted
1 teaspoon grated orange rind
3 tablespoons fresh orange juice
⅛ teaspoon salt
Partially cook bacon in a large skillet. Wrap each scallop with 1 half slice bacon. Set aside.
Bring syrup to a boil in a medium saucepan over medium-high heat. Cook, uncovered, until reduced to ⅔ cup (about 5 minutes). Remove from heat; stir in butter and next 3 ingredients.
Thread bacon-wrapped scallops on 12 (10- to 12-inch) skewers; brush syrup mixture over kebabs. Coat food rack with cooking spray; place on grill over medium-high heat (350° to 400°). Place kebabs on rack; grill, covered with lid, 3 to 4 minutes on each side or until done, basting often.
Big Flavors Rating: 5 Stars