Maple-Glazed Chicken with Apple-Brussels Sprout Slaw
This post may contain affiliate links, which won't change your price but will share some commission.
This recipe is in the current issue of Cooking Light in a section about 20-minute cooking, and that sounded like what I needed on a Monday when I still wasn't feeling well. I didn't even realize that the slaw had raw Brussels sprouts in it until I was making it. It turned out great! The slaw is easy to make while the chicken is cooking, and the sweetness from the maple syrup is perfect with the tanginess from the vinegar. I loved the texture of the apples with this dish. There is an issue with the recipe though – it says 8 servings, and each serving is 2 cutlets, but only calls for 8 servings. So it's more like 4. The only change I made was to use raisins instead of currants, because that's what I had on hand.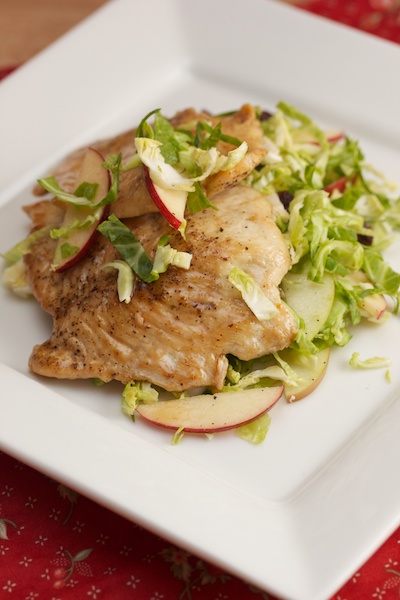 Maple-Glazed Chicken with Apple-Brussels Sprout Slaw
Cooking Light November 2010
Chicken cutlets can range in size from about 2 ounces each to close to 5 or 6 ounces each. For this dish, we chose the smaller ones.
Total: 20 minutes
Yield: 8 servings (serving size: 2 cutlets and about 3/4 cup slaw)
8 (2-ounce) chicken cutlets
1/2 teaspoon kosher salt, divided
1/2 teaspoon freshly ground black pepper, divided
2 tablespoons olive oil, divided
3 tablespoons red wine vinegar, divided
2 tablespoons maple syrup
8 ounces Brussels sprouts
1/4 cup dried currants
1 medium Fuji or Gala apple, cut into 1/8-inch-thick slices
1. Heat a large skillet over medium-high heat. Sprinkle chicken with 1/4 teaspoon salt and 1/4 teaspoon pepper. Add 1 tablespoon oil to pan; swirl to coat. Add chicken to pan; cook 3 minutes on each side or until done. Remove from pan; keep warm. Add 2 tablespoons vinegar and syrup to pan; bring to a boil. Cook 1 minute or until reduced to 3 tablespoons. Return chicken to pan; turn to coat with glaze.
2. Cut Brussels sprouts in half lengthwise; thinly slice crosswise. Place remaining 1 tablespoon oil, 1 tablespoon vinegar, 1/4 teaspoon salt, and 1/4 teaspoon pepper in a large bowl; stir well with a whisk. Add Brussels sprouts, currants, and apple; toss to combine. Serve slaw with chicken.
Nutritional Information:
Calories: 282
Fat: 8.7g (sat 1.4g,mono 5.4g,poly 1.5g)
Protein: 28.6g
Carbohydrate: 23.4g
Fiber: 3.7g
Cholesterol: 66mg
Iron: 2.1mg
Sodium: 331mg
Calcium: 54mg
Big Flavors Rating: 5 Stars