This post may contain affiliate links, which won't change your price but will share some commission.
This is the second time I've made this recipe, and it was just as good - if not better - the second time around. The Dijon and balsamic cut the sweetness of the sauce nicely, and the meat is incredibly juicy. This is definitely great to entertain with! I have to say, though, that I doubled the recipe this time to make "8" servings, and between 4 of us, we only have 3 pieces of pork left. Just a heads up 😉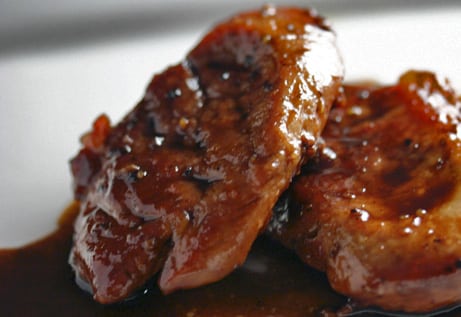 Maple-Balsamic-Glazed Pork Medallions
Cooking Light December 2007
Balsamic vinegar and maple syrup combine for a sweet-tart sauce; Dijon mustard adds a savory note. Serve with whipped sweet potatoes and sautéed broccoli rabe.
¼ cup maple syrup
3 tablespoons balsamic vinegar
2 teaspoons Dijon mustard
1 (1-pound) pork tenderloin, trimmed
2 teaspoons olive oil
½ teaspoon salt
¼ teaspoon freshly ground black pepper
Combine syrup and vinegar in a small saucepan; bring to a boil. Cook until reduced to ⅓ cup (about 3 minutes), stirring occasionally. Remove from heat; stir in mustard.
Cut pork crosswise into 8 pieces. Place each pork piece between 2 sheets of heavy-duty plastic wrap; pound to ¼-inch thickness using a meat mallet or small heavy skillet. Heat oil in a large nonstick skillet over medium-high heat. Sprinkle pork evenly with salt and pepper. Add pork to pan; cook 3 minutes on each side. Add vinegar mixture; cook 1 minute or until desired degree of doneness, turning pork to coat. Place 2 pork medallions on each of 4 plates; drizzle about 1 tablespoon syrup mixture over each serving.
Yield: 4 servings
Nutritional notes:
CALORIES 214 (27% from fat); FAT 6.4g (sat 1.7g,mono 3.3g,poly 0.7g); PROTEIN 22.7g; CHOLESTEROL 63mg; CALCIUM 22mg; SODIUM 409mg; FIBER 0.1g; IRON 1.5mg; CARBOHYDRATE 15.3g
MacGourmet Rating: 5 Stars