This post may contain affiliate links, which won't change your price but will share some commission.
This was a quick meal that turned out OK. I've had a lot of similar recipes that turned out better. I think this one would benefit from pressing the tofu for 30 minutes to an hour, and something else in the sauce...but I'm not sure what. It was good, but I won't be making it again.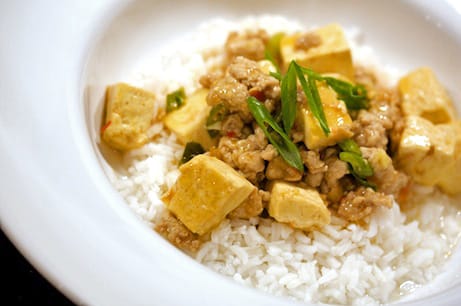 Mao Pao Tofu
Cooking Light December 2009
Yield: 4 servings (serving size: 1 ¼ cups tofu mixture and ½ cup rice)
1 (3 ½-ounce) bag boil-in-bag rice
2 tablespoons low-sodium soy sauce, divided
2 tablespoons dry sherry, divided
½ pound lean ground pork
1 tablespoon peanut oil
1 (14-ounce) package extra-firm tofu, drained and cubed
3 tablespoons chopped green onions
1 tablespoon minced fresh ginger
1 tablespoon chile paste with garlic
2 teaspoons minced fresh garlic
¼ teaspoon salt
1 cup fat-free, less-sodium chicken broth
2 teaspoons cornstarch
1 tablespoon water
1. Cook rice according to directions.
2. Combine 1 tablespoon soy sauce, 1 tablespoon sherry, and pork; set aside.
3. Heat oil in a wok over high heat. Add tofu; stir-fry 3 minutes. Add pork mixture; stir-fry 3 minutes. Stir in onions and next 4 ingredients; stir-fry 30 seconds. Add 1 tablespoon soy sauce, 1 tablespoon sherry, and broth; cook 2 minutes. Combine cornstarch and water; stir with a whisk. Add to wok; cook 30 seconds or until slightly thick, stirring constantly. Serve over rice.
Nutritional Information:
Calories: 342
Fat: 14.3g (sat 3.8g,mono 2.7g,poly 4.6g)
Protein: 23.3g
Carbohydrate: 27.8g
Fiber: 0.3g
Cholesterol: 43mg
Iron:2.3mg
Sodium:562mg
Calcium:78mg
MacGourmet Rating: 4 Stars