This post may contain affiliate links, which won't change your price but will share some commission.
We had an Osterizer from my in-laws that they received as a wedding gift about a decade before I was born. They gave it to us since they rarely used it. It was amazing! That thing could crush ice like nobody's business. A few months ago, it finally bit the dust. It definitely got a lot of mileage in our home...but it was finally time to move on and get another blender. After some research online and surveying of friends and family, we decided that we really wanted to get a Vitamix.
We ended up finding a certified reconditioned one online, which was awesome! So when it got here, we couldn't wait to try it out. I wanted to make a Peach Soy Sherbert that was featured in the DVD that came with the blender, because I thought we had all of the ingredients at home. Turns out we didn't, so I used the directions and made something a bit different with what we had in the kitchen.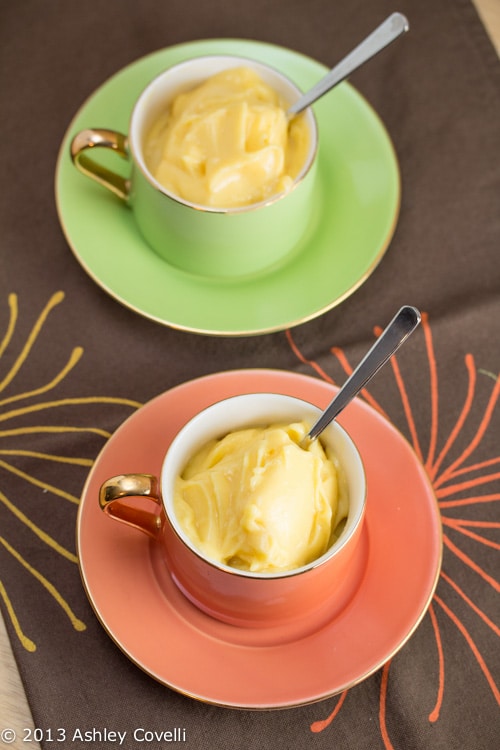 Mango Coconut Sherbet
Ashley Covelli (using directions by Vitamix)
Yield: 3 c (690 g)
Difficulty: Easy
Total Time: 11 Minutes
1 cup (240 ml) coconut milk beverage
1 pound (454 g) frozen unsweetened mango chunks
½ teaspoon vanilla extract
Place all ingredients into the Vitamix container in the order listed and secure lid.
Select Variable 1.
Turn machine on and slowly increase speed to Variable 10, then to High.
Use the tamper to press the ingredients into the blades.
In about 30-60 seconds, the sound of the motor will change and four mounds should form.
Stop machine. Do not over mix or melting will occur. Serve immediately.
If mixture has consistency of a milkshake, firm it up by slowly adding another cup of frozen ice cubes. Process until smooth. For recipe variation, other fruits may be substituted.
Note: This recipe has been written for the Vitamix 5200 with Standard 64-ounce container. If you are using a different Vitamix machine or container size, you may need to make adjustments to the Variable Speed, processing time, and/or ingredient quantities.
Big Flavors Rating: 4 Stars