This post may contain affiliate links, which won't change your price but will share some commission.
I had a coupon for $5 off a cookbook from a local wholesale club. I mean, I was clearly obligated to buy one, right? I actually don't own a ton of cookbooks. I learned this recently since we remodeled our studio, and I finally got to display my cookbook collection on the shelves above one of the desks. So a couple new ones won't hurt. Anyway, I chose Gwyneth Paltrow's new-ish cookbook after flipping through several contenders. I had heard good things about her recipes, and the book is just beautiful. The photography really is stunning. And her recipes are pretty darn healthy, which I love. This is the first recipe I chose to make from it, and it turned out great! I didn't spend the time slicing the mango and avocado all pretty and alternating it. I was worn out from a loooooong day in toddler-ville, a looming deadline for my part-time job, and a desire to get dinner on the table quickly. And it tasted just fine without the pretty plating. I had to go to a health food store to find rice syrup for the dressing. It was nice - not quite as sweet as agave or honey.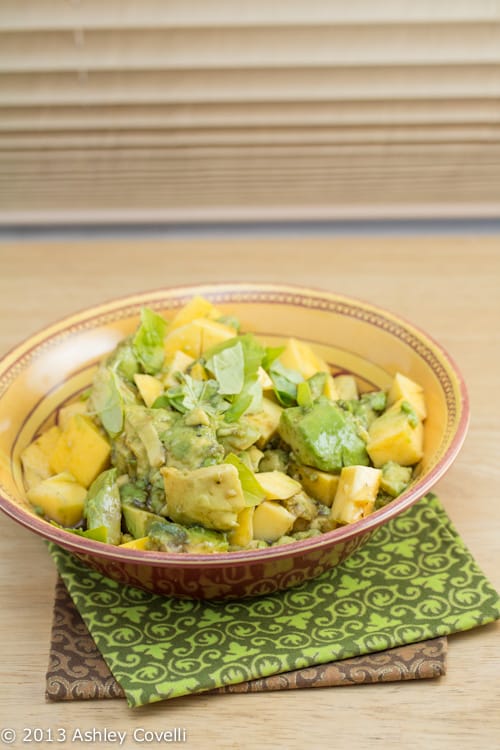 Mango and Avocado Salad with Balsamic-Lime Vinaigrette
It's All Good - Gwyneth Paltrow
2 ripe mangoes, peeled, pitted, and thinly sliced
2 ripe avocados, peeled, pitted, and thinly sliced
Coarse sea salt
1 batch Balsamic-Lime Vinaigrette (recipe below)
A small handful of fresh basil leaves
Alternate slices of mango and avocado on a serving platter and scatter with a pinch of sea salt.
Drizzle with the Balsamic-Lime vinaigrette; tear the basil leaves and sprinkle them over the top.
Serve immediately.
Balsamic-Lime Vinaigrette
Makes about ⅔ cup
2 tablespoons balsamic vinegar
2 tablespoons brown rice syrup
1 tablespoon freshly squeezed lime juice
¼ cup plus 2 tablespoons extra virgin olive oil
Coarse sea salt
Freshly ground pepper
Whisk the vinegar, brown rice syrup, and lime juice together in a mixing bowl.
Slowly whisk in the olive oil and season to taste with salt and pepper.
Keeps well in a jar in the fridge for up to a week.
Big Flavors Rating: 4 Stars