This post may contain affiliate links, which won't change your price but will share some commission.
I have seen this recipe floating around for years now, but when a friend brought some in to work for me before Christmas, I decided that I needed to make these. They're possibly the easiest cookie recipe I've ever made, but they're kind of tricky to cut because they're so sticky. I had to let them cool overnight in order for them to be firm enough to cut into squares. They're fantastic, and will definitely cure your sugar cravings! This is definitely an easy and impressive recipe!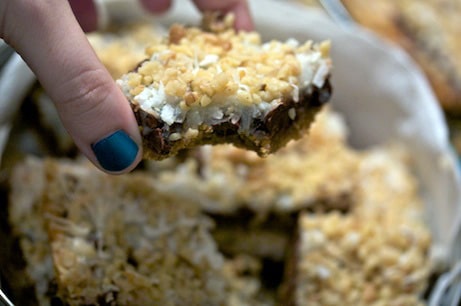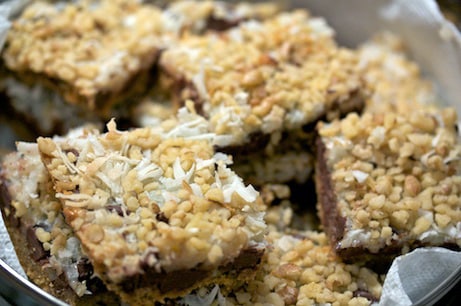 Magic Cookie Bars
Eagle Brand
This bar cookie is an old fashioned favorite. Chocolate chips, nuts and coconut are set in a caramelized layer on top of a graham cracker crust.
Yield 36 bars
½ cup butter or margarine, melted
1 ½ cups graham cracker crumbs
1 (14 ounce) can EAGLE BRAND® Sweetened Condensed Milk
2 cups semisweet chocolate morsels
1 ⅓ cups flaked coconut
1 cup chopped nuts
1. Heat oven to 350 degrees F (325 degrees for glass dish). Coat 13x9-inch baking pan with no-stick cooking spray.
2. Combine graham cracker crumbs and butter. Press into bottom of prepared pan. Pour sweetened condensed milk evenly over crumb mixture. Layer evenly with chocolate chips, coconut and nuts. Press down firmly with a fork.
3. Bake 25 minutes or until lightly browned. Cool. Cut into bars or diamonds. Store covered at room temperature.
Variations
7-Layer Magic Cookie Bars: Substitute 1 cup (6-ounces) butterscotch flavored chips for 1 cup semi-sweet chocolate chips and proceed as directed above.
Peanut butter flavored chips or white chocolate chips may be substituted for butterscotch flavored chips.
Magic Peanut Cookie Bars: Substitute 2 cups (about ¾ pound) chocolate-covered peanuts for semi-sweet chocolate chips and chopped nuts.
Magic Rainbow Cookie Bars: Substitute 2 cups plain candy-coated chocolate candies for semi-sweet chocolate chips.
Nutritional Information
Amount Per Serving Calories: 167 | Total Fat: 9.8g | Cholesterol: 11mg
MacGourmet Rating: 5 Stars