This post may contain affiliate links, which won't change your price but will share some commission.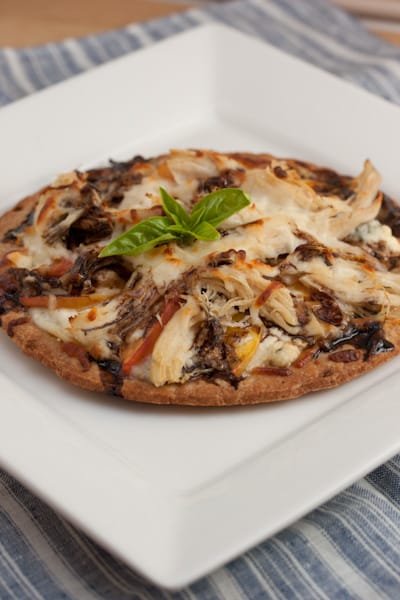 Today is the 25th anniversary of one of my favorite movies, Labyrinth. It was one of the first movies I remember seeing as a kid, and back in college, I used to have an annual viewing party in my dorm with a bunch of friends. In honor of this anniversary, I wanted to make something for dinner that would incorporate food from the movie, but it was tough. The only food I could think of was a peach, so I found this recipe that incorporates peaches into a pizza. This is a really different pizza than anything we've had before. I bought some 7" whole wheat pizza crusts and used those. I think it would have been better with some fresh herbs or green onions on top, but we did enjoy it.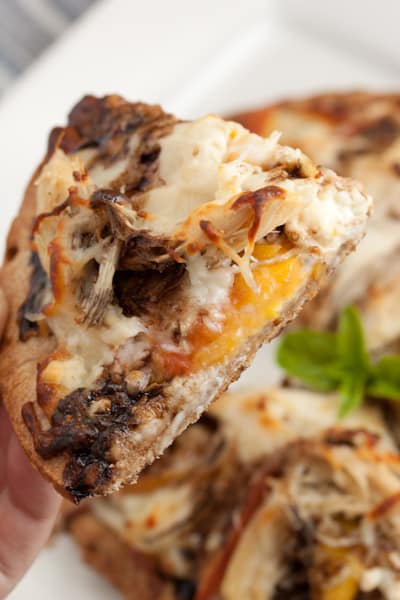 Peach and Gorgonzola Chicken Pizza
Cooking Light May 2011
Ditch the tomato sauce and give pizza a makeover by topping with fresh peach slices and two types of cheese. A drizzle of tangy balsamic reduction provides the perfect balance to the sweet summer fruit.
YIELD: 4 servings (serving size: 2 pizza wedges and 1 ½ teaspoons balsamic reduction)
TOTAL: 20 MINUTES
1 (10-ounce) prebaked thin pizza crust (such as Boboli)
Cooking spray
1 teaspoon extra-virgin olive oil
½ cup (2 ounces) shredded part-skim mozzarella cheese, divided
1 cup shredded cooked chicken breast
⅓ cup (about 1 ½ ounces) crumbled Gorgonzola cheese
1 medium unpeeled peach, thinly sliced
⅓ cup balsamic vinegar
1. Preheat oven to 400°.
2. Place pizza crust on a baking sheet coated with cooking spray. Brush 1 teaspoon extra-virgin olive oil evenly over crust. Top evenly with ¼ cup shredded mozzarella cheese, chicken, Gorgonzola cheese, and peach slices. Top with remaining ¼ cup mozzarella. Bake at 400° for 11 minutes or until crust browns.
3. Place vinegar in a small saucepan over medium-high heat; cook until reduced to 2 tablespoons (about 5 minutes). Drizzle balsamic reduction evenly over pizza. Cut pizza into 8 wedges.
Amount per serving
Calories: 384
Fat: 12.5g
Saturated fat: 4.9g
Monounsaturated fat: 2.1g
Polyunsaturated fat: 0.5g
Protein: 24.3g
Carbohydrate: 42.5g
Fiber: 2.1g
Cholesterol: 46mg
Iron: 2.9mg
Sodium: 643mg
Calcium: 264mg
Big Flavors Rating: 4 Stars