I took a Korean cooking class a few weeks ago, and they sent us home with a packet of all of the recipes that we made that day. Dino and I decided to have some friends over for dinner tonight, and I thought it would be a great time to recreate a few of the dishes from that day. This is one of the sides (banchan) that we made that day. It's a really simple and flavorful way to prepare bean sprouts.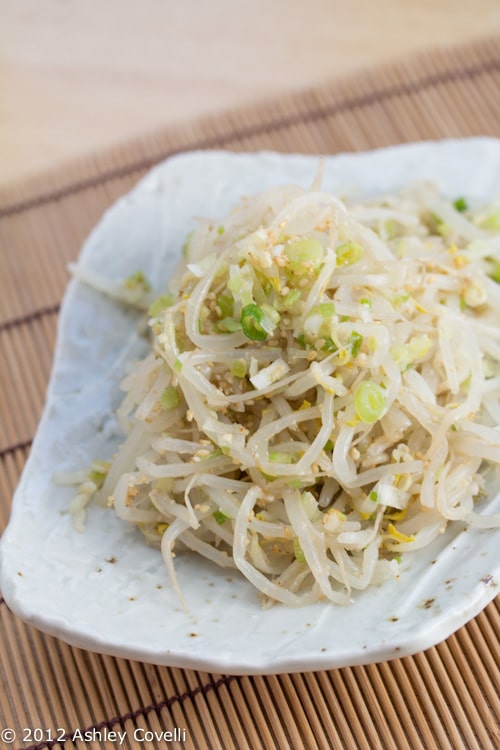 Kong Namul (Seasoned Bean Sprouts)
Institute of Culinary Education
Adapted from The Korean Table - Taekyung Chung and Debra Samuels
Yield: Makes 2 cups
In this namul soybean sprouts are steamed until almost all the water is evaporated, creating a tangle of crunch sprouts. Soybean sprouts - the traditional choice for this namul - must be cooked thoroughly before eating. If you are using mung bean sprouts, steaming for 2 minutes is plenty of time. It is important to dress them while warm for maximum absorption of the seasonings.

1 teaspoon salt
¾ pound soybean or mung bean sprouts
¼ cup minced green onion
1 tablespoon crushed roasted sesame seeds
1 tablespoon dark sesame oil
1. In a medium saucepan with a lid, combine ½ cup water, ½ teaspoon of the salt and the soy bean sprouts. Bring to a boil. Reduce to low heat, cover, and steam the sprouts for 8 to 10 minutes (or 2 minutes for mung bean sprouts).
2. Drain the sprouts and transfer to a serving bowl.
3. Mix the sprouts with the green onion, the remaining ½ teaspoon of salt, the crushed roasted sesame seeds and sesame oil.
This will keep for 2 days in the refrigerator.
Big Flavors Rating: 5 Stars