This post may contain affiliate links, which won't change your price but will share some commission.
This is a nice, healthy alternative to standard Spinach Dip. I made a batch of this and served it with some tortilla chips. It was light and creamy, and the lemon flavor was really nice. I only used the juice of half of my lemon, since I've found that recipes that call for a whole lemon get too lemony when I use my Lemon Squeezer. I love how much juice it gets out of lemons, but I tend to cut the amount called for in half if it's measured in number of lemons rather than something like teaspoons. This recipe was really nice, and it was a big hit with the friends that we had over for dinner. I'll definitely make it again!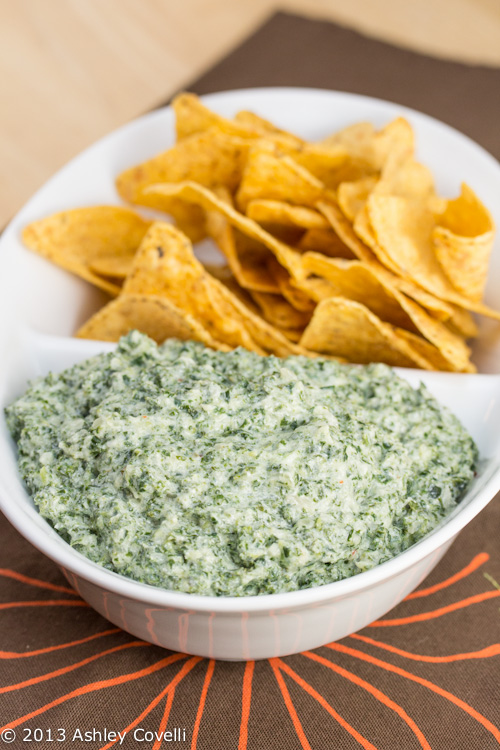 Kale Ricotta Dip
Fitsugar (adapted from Whole Foods)
If you don't have a food processor, a blender works fine. Just make sure you slice the kale leaves into smaller pieces and take care to remove tough ribs for easier blending.
1 bunch green kale, stems and tough ribs stripped out and discarded, leaves sliced
1 small onion, sliced
4 cloves garlic
¼ cup water
¾ cup low-fat ricotta cheese
1 ½ tablespoons parmesan cheese
Juice of 1 lemon
Lemon zest to taste
¼ teaspoon sea salt
1 teaspoon red pepper flakes, or to taste
In a large saucepan, combine kale, onion, garlic and ¼ cup water. Set over medium heat, cover and cook, stirring occasionally, until vegetables are very tender, about 12 minutes; add more water a tablespoon at a time if the pan dries out.
Transfer vegetables and any liquid in the pan to a food processor or blender and let cool a few minutes. Add ricotta, parmesan, lemon juice and zest, salt and pepper flakes. Process until smooth.
Transfer to a bowl and serve.
Big Flavors Rating: 4 Stars