Remember all of those awesome recipes I had been testing for an upcoming cookbook a while back? Well, the book is finally out, and I got to meet the Steamy Jaden Hair at her first ever book signing in NYC!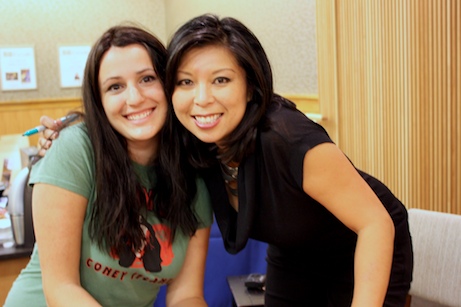 I've been following her blog for a few years now, and this kitchen maestro totally kicked butt! She was really down to earth and she told some great stories about how she got started in the kitchen.
I'm excited to finally try out more of the recipes from her book!
Since Dino has witnessed some of her amazing recipes come out of our own kitchen, he was actually willing to go down to New York City on his day off ::gasp:: to be there with me.
It's a good thing he went to, because he won MacSpeech Dictate in one of her giveaways.
We also met a few other for bloggers, including Deb & Alex from Smitten Kitchen (with their absolutely adorable little baby!), and Chelsea from Chelsea's Chew & Run Fun who has a great new food/fitness blog.
It was a beautiful day in the city, and it was great to meet such fun foodies in person.