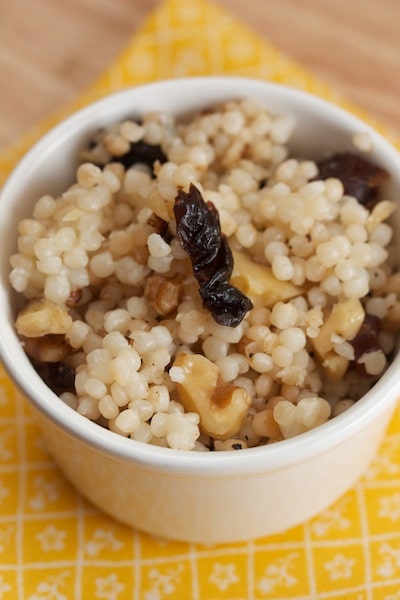 Israeli Couscous with Walnuts, Dates and Dried Plums
This post may contain affiliate links, which won't change your price but will share some commission.
I wanted to make some Israeli Couscous to go with dinner tonight, and I thought some dried fruit and walnuts would be nice. This turned out really great! I'll definitely make it again! This made enough for about 3 servings for us.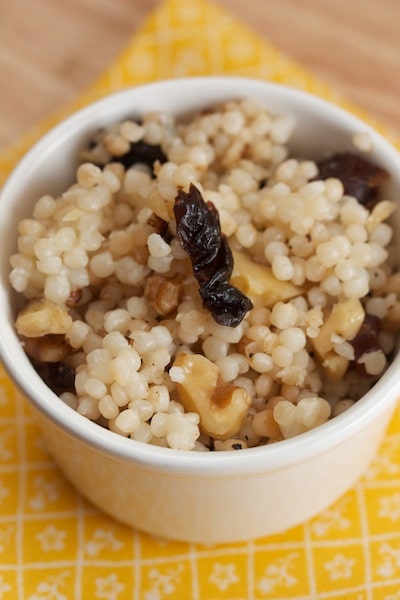 Israeli Couscous with Walnuts, Dates and Dried Plums
Ashley Covelli
1 cup Israeli couscous
1 clove garlic, minced
1-2 tablespoons extra-virgin olive oil
1 1/2 cup water
2-3 tablespoons each walnuts, dried dates and dried plums, coarsely chopped
kosher salt and freshly ground black pepper, to taste
Heat a medium-sized pot over medium heat. Add oil and couscous and toast, stirring occasionally, until the couscous starts to brown. Add garlic and stir until fragrant, about 30 seconds. Add the water and bring to a boil. Cover the pot and lower to a simmer. Cook, stirring occasionally, for 8-10 minutes, until the water is absorbed. Turn off the heat and stir in the nuts, dates and plums. Season with salt and pepper and replace the lid, allowing the residual heat to warm the fruit and nuts for a few minutes. Enjoy!
Big Flavors Rating: 5 Stars