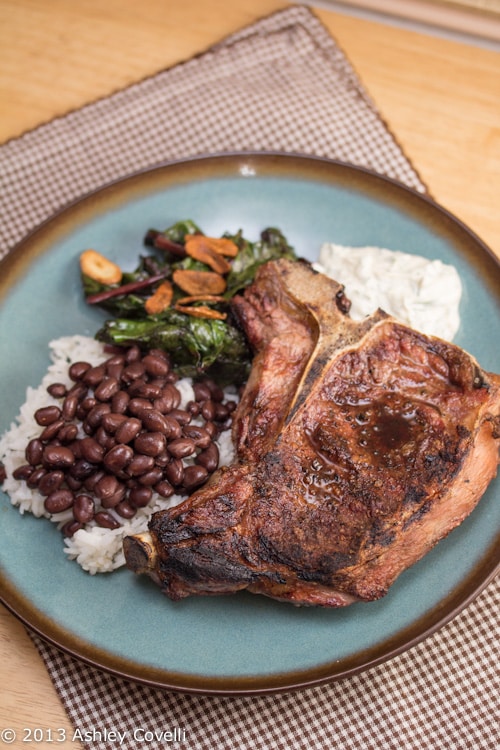 Grilled T-Bone Steaks with Dill-Horseradish Mayo
This post may contain affiliate links, which won't change your price but will share some commission.
What do you buy for the birthday boy who doesn't want anything? Farm fresh BEEF. Yep. I picked up two gigantic T-Bone steaks from a local farm for Dino's birthday meal, because steak isn't something we eat very often, so it's a real treat when we do. These beauties were over a pound each, and my goodness – they were phenomenal! He fired up the charcoal grill while I seasoned them and put the sauce and side dishes together. Charcoal gives steak such incredible flavor, but if you're pinched for time, a gas grill or indoor grill pan would work just fine. Simple seasoning is the way to go when you have a really nice cut of meat, but I also like having a dipping sauce on the side, just to give it a little extra oomph. This was a fantastic meal. We had black beans and rice on the side, as well as a batch of Spicy Sautéed Beet Greens with Garlic Chips.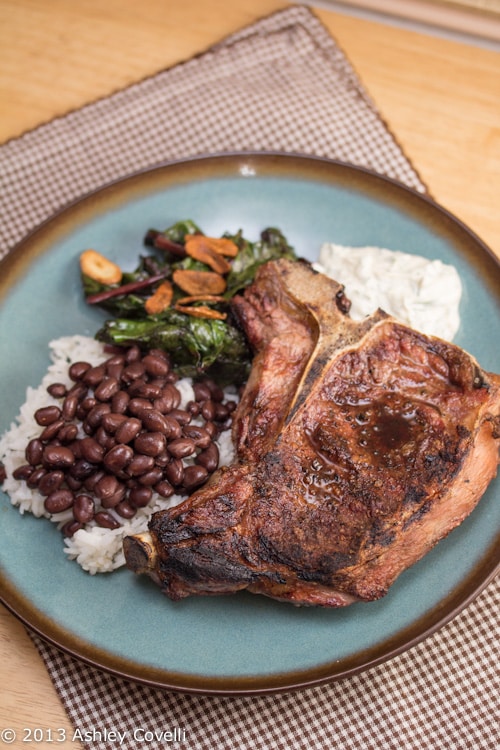 Grilled T-Bone Steaks with Dill-Horseradish Mayo
Dino & Ashley Covelli
T-Bone Steaks
Coarse sea salt and freshly cracked black pepper
For Sauce:
1/2 cup mayonnaise
1 teaspoon prepared horseradish
2 tablespoons fresh dill, chopped
1 green onion, minced
Kosher salt and freshly cracked black pepper, to taste
Remove steaks from the refrigerator and let them sit out while you heat the charcoal in the grill. Pat steaks dry with paper towels, and season both sides generously with coarse sea salt and freshly cracked black pepper. If you have a charcoal chimney, light the coals and let them get nice and hot. Pour all of the coals onto one side of the grill, leaving the other side empty. Oil the grill grate (we like pouring a little olive oil onto a paper towel and rubbing it onto the grill with a pair of tongs). Put steaks directly over coals for 3-5 minutes per side, to get a nice crust. If the steaks need to cook further, move them to the other side of the grill, off of the coals, close the lid, and continue cooking until it reaches your desired temperature. Remove steaks to a plate and let rest for 10 minutes.
While the meat is resting, mix sauce ingredients together and place in the refrigerator until ready to use.
Big Flavors Rating: 5 Stars