This post may contain affiliate links, which won't change your price but will share some commission.
This recipe comes with a disclaimer: it took me a lot longer than 25 minutes to get the glaze to reduce. A lot. It was at a rolling boil for over an hour, and eventually I decided it was good enough to start grilling the chicken. It ended up being worth it, even though we didn't eat dinner until after 10pm. The chicken was juicy, and the basil and garlic really permeated it. The glaze was sweet and tangy and delicious. It was definitely a hit...which is a good thing, because after spending that much time cooking, it just had to be good!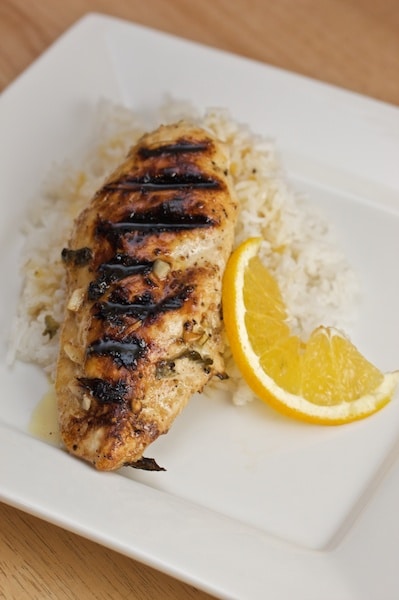 Grilled Chicken with with Tamarind-Orange Glaze
Bon Appétit September 2002
4 skinless boneless chicken breast halves
½ cup olive oil
⅓ cup thinly sliced fresh basil
2 tablespoons chopped garlic
¼ teaspoon salt
¼ teaspoon ground black pepper
2 14-ounce cans low-salt chicken broth
1 cup orange juice
½ cup sugar
6 tablespoons unsalted butter
2 tablespoons tamarind paste*
4 teaspoons grated orange peel
4 teaspoons grated peeled fresh ginger
¾ cup raw long-grain white rice, cooked
Place chicken in shallow bowl. Whisk next 5 ingredients in medium bowl. Pour over chicken; turn to coat. Cover; chill at least 1 hour and up to 6 hours, turning often.
Whisk broth, juice, sugar, 3 tablespoons butter, tamarind paste, peel, and ginger in large saucepan. Boil mixture over medium-high heat until reduced to ¾ cup and glaze coats back of spoon, stirring often, about 25 minutes. (Can be made 2 days ahead. Cool glaze, then cover and chill. Rewarm over medium heat, whisking occasionally.) Whisk in 3 tablespoons butter. Season glaze with salt and pepper.
Prepare barbecue (medium-high heat). Reserve ¼ cup glaze in bowl. Grill chicken until cooked through, basting with reserved glaze, about 5 minutes per side. Arrange chicken atop rice on platter. Spoon remaining glaze over chicken.
* Tamarind paste, a tart, seedless paste, is available at Middle Eastern, Indian, and some Asian markets.
MacGourmet Rating: 5 Stars