This post may contain affiliate links, which won't change your price but will share some commission.
This was a quick and easy marinated steak recipe. While the steak was marinating, I decided to make a side salad with what I had left in the vegetable drawer in my refrigerator - cucumber, sugar snap peas, red bell peppers, onion and cilantro. I added some black sesame seeds and dressed it up with some teriyaki sauce, sesame oil, soy sauce, seasoned rice vinegar, salt and pepper. I also made some plain couscous to go alongside. The steak was tender and flavorful, and I drizzled the juices that collected while it was resting over the top after I sliced it.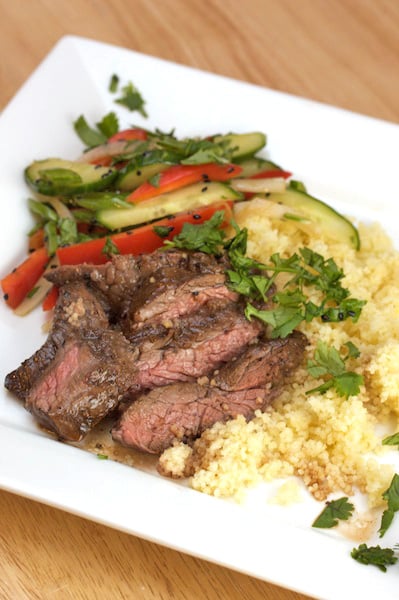 Grilled Balsamic Skirt Steak
Cooking Light May 2010
For an easy al fresco meal, head outdoors and fire up your grill to prepare this budget-friendly cut of meat.
Total: 40 minutes
Yield: 4 servings (serving size: 3 ounces)
¼ cup balsamic vinegar
1 tablespoon Worcestershire sauce
2 teaspoons dark brown sugar
1 garlic clove, minced
1 pound skirt steak, trimmed and cut into 4 pieces
Cooking spray
½ teaspoon kosher salt, divided
¼ teaspoon freshly ground black pepper
1. Combine first 4 ingredients in a large zip-top plastic bag. Add steak, turning to coat; seal and marinate at room temperature 25 minutes, turning once. Remove steak from bag; discard marinade.
2. Heat a large grill pan over medium-high heat. Coat pan with cooking spray. Sprinkle both sides of steak with ¼ teaspoon salt and pepper. Add steak to pan; cook 3 minutes on each side or until desired degree of doneness. Remove steak from pan; sprinkle with remaining ¼ teaspoon salt. Tent with foil; let stand 5 minutes. Cut steak diagonally across the grain into thin slices.
Kitchen Notes
Cut the steak into smaller pieces so all of it will fit in the grill pan at once.
Nutritional Information
Calories: 201
Fat: 10.3g (sat 4g,mono 5.2g,poly 0.4g)
Protein: 22.3g
Carbohydrate: 3.1g
Fiber: 0.0g
Cholesterol: 51mg
Iron: 2.6mg
Sodium: 323mg
Calcium: 16mg
MacGourmet Rating: 4 Stars