This post may contain affiliate links, which won't change your price but will share some commission.
Meatloaf is definitely something I never thought of as cute. Until now!
These individual-sized meatloaves are great, because they're less messy and cook more quickly than the standard loaf-o-meat.
I really liked the measuring cup method here, and think it would be interesting to try freezing them before cooking sometime to see how they hold up. It would be nice to have the majority of the work done ahead of time!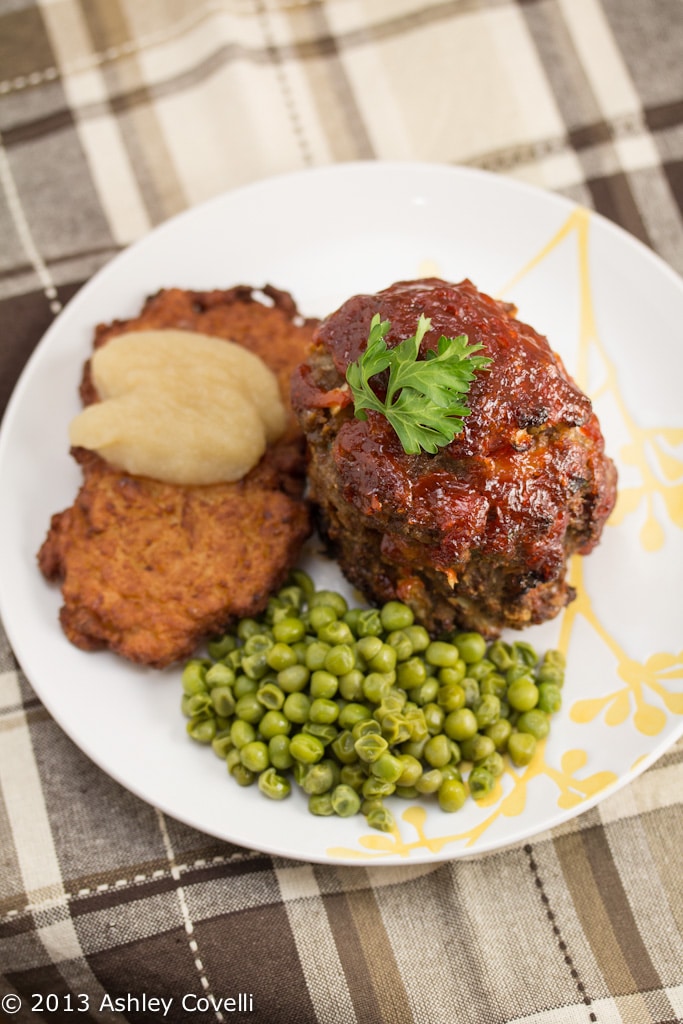 These loaves are topped with a really sweet glaze - next time, I may reduce the amount of sugar in it. It was good, but pretty sweet. The 1-cup versions are very substantial. I may try it with a ½-cup measure next time.
I served these with sweet peas and potato latkes topped with applesauce. It was a great, comfort food meal!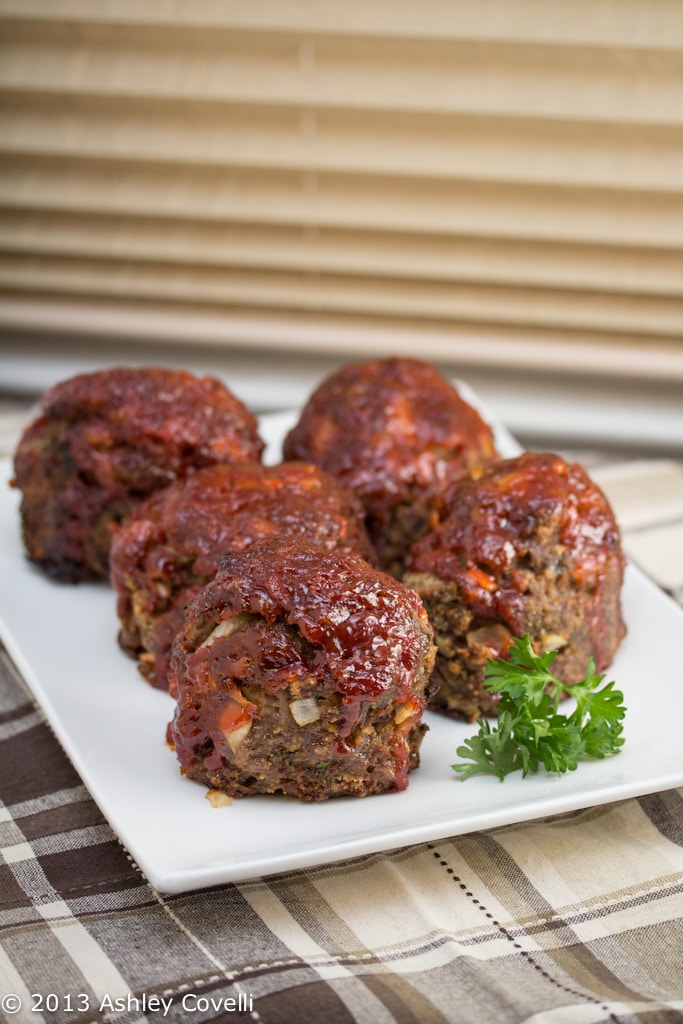 Gourmet Mini Meatloaves
Quick, Cheap Comfort Food: 100+ Fresh Recipes for Meals in a Hurry – Victoria Shearer
Serves: 5 (1 mini-loaf per serving)
Prep time: 20 minutes
Cook time: 30 minutes
2 teaspoons olive oil
1 ⅓ cups chopped sweet onions, like Vidalia
2 teaspoons minced garlic
2 pounds ground beef or meatloaf mix (beef, pork, veal)
2 cups fresh bread crumbs
2 eggs, beaten
¼ cup snipped fresh flat-leaf parsley or 2 tablespoons dried
2 tablespoons Worcestershire sauce
½ teaspoon hot sauce
½ dry mustard
2 teaspoons salt
½ teaspoon black pepper
½ cup ketchup
½ cup sugar
Early in the day or the day before: Heat olive oil in a medium nonstick skillet over medium heat. Add onions and garlic. Sauté for 1 ½ minutes. Remove from heat. Place in a large mixing bowl.
Add ground beef, bread crumbs, and eggs. With clean hands mix until ingredients are well combined. Add parsley, Worcestershire sauce, hot sauce, dry mustard, salt, and pepper. Mix seasonings into meat mixture.
Firmly pack the meatloaf mixture into a 1-cup measure, mounding top to form a dome. Slide a paring knife gently around the edges of the cup. Upend cup onto your hand so that meatloaf slides out. Then place loaf, flat side down, on a tray. Repeat with remaining mixture. (You can refrigerate meatloaves, covered, at this point for up to 24 hours or freeze until needed. Bring meatloaves to room temperature before baking.)
To bake: Preheat oven to 400°F. Transfer meatloaves to the slotted tray of a broiler pan. Bake for 15 minutes. Meanwhile, place ketchup and sugar in a small saucepan over medium-low heat. Cook for 1 minute, stirring constantly, until sugar is dissolved. Spoon ketchup mixture over partially baked meatloaves. Bake meatloaves for 15 minutes more or until meat, when tested with a knife, is cooked through (155°F on instant-read thermometer).
Note: These 1-cup meatloaves are hearty portions. If you have a ¾-cup measure, the mixture will form 6 mini-loaves, suitable for smaller appetites.
Big Flavors Rating: 4 Stars