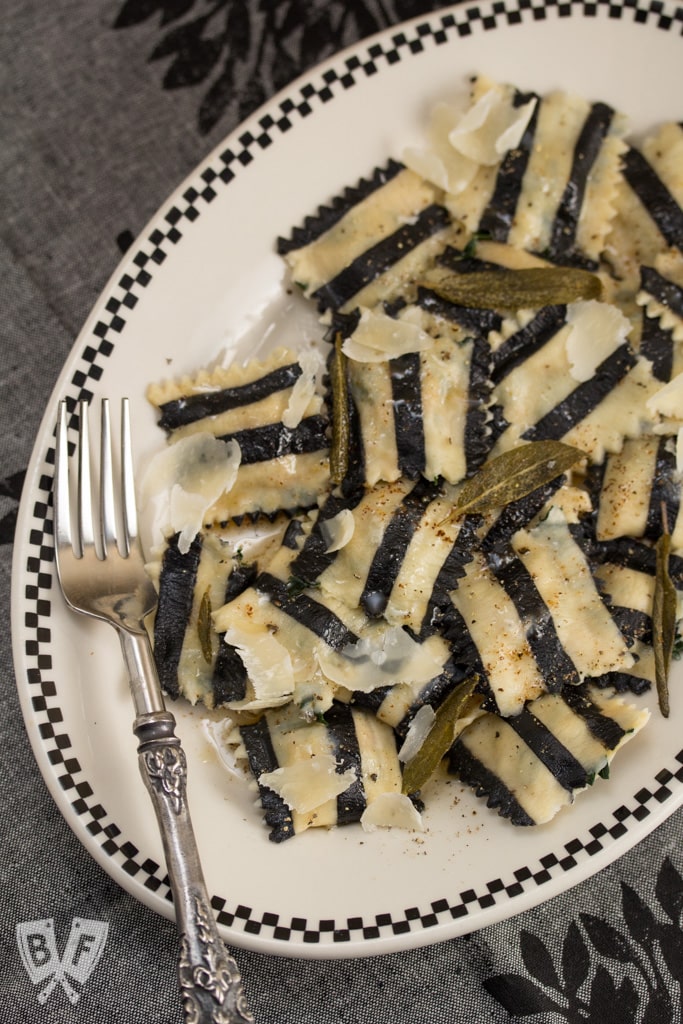 Ghost with the Most Roasted Sweet Potato Ravioli
This post may contain affiliate links. Thank you for supporting the brands that keep me creative in my tiny kitchen!
Homemade black and white pasta is stuffed with roasted veggies and topped with brown butter sauce and crispy sage leaves in my Halloween tribute to Beetlejuice!
This post may contain affiliate links.
Halloween is my favorite holiday, hands down. I love any excuse to do something spooky, and when a few of my food blogger buddies suggested doing a scary movie tribute, I knew I needed to get in on that action.
I've done a culinary tribute to Beetlejuice before, but that movie is just too much fun to not get creative with it again.
And this time, I went BIG.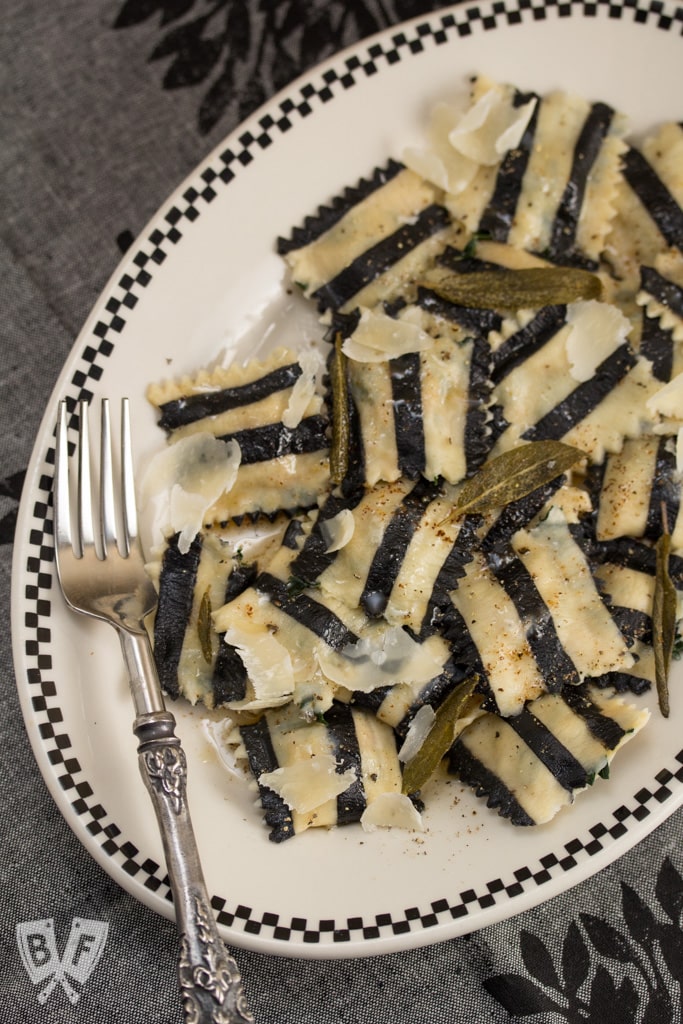 I was inspired by the scene where Beetlejuice turns into a big tent and does the whole, "Attention Kmart Shoppers" bit (check it out starting at 1:30 in this clip, if you're interested).
Granted, he wears that black and white striped outfit all the time, but that scene always stood out to me. I even got to see part of the actual costume that appeared in the film at a Tim Burton exhibit at MoMa in New York City several years ago and it was incredible.
My mind immediately went to ravioli. I haven't used my KitchenAid's pasta roller attachment in way too long, and I've never used the ravioli maker attachment that I got as a wedding gift over 8 years ago. *GASP*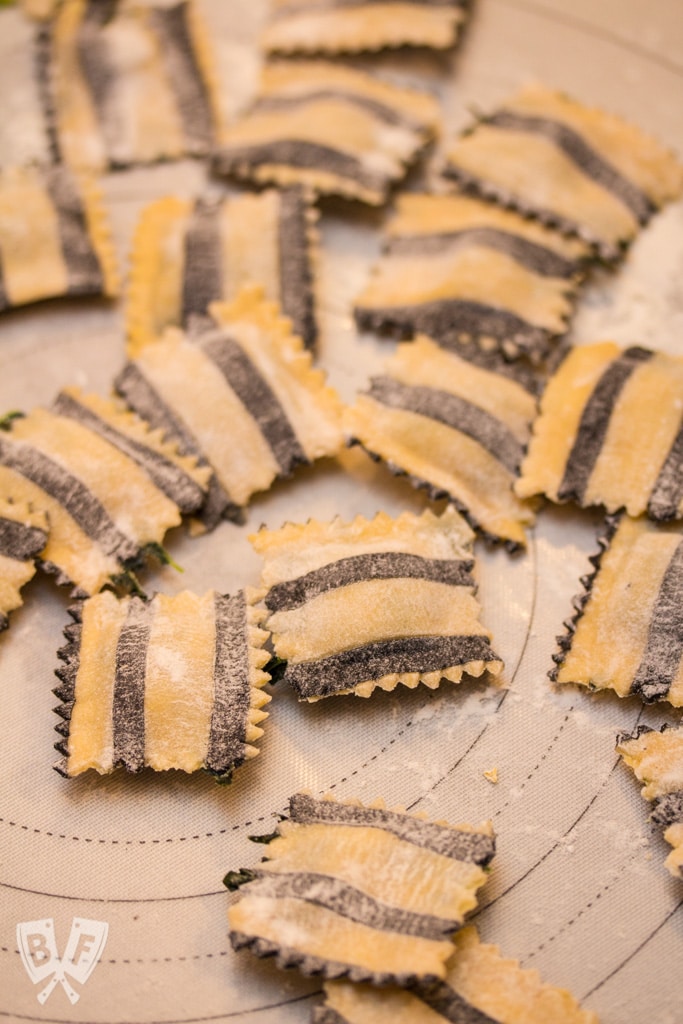 Let me just start out by saying that this was not easy. It was partially my fault for being overambitious with this idea when it's been several years since I've made my own pasta. I really should have re-familiarized myself with the pasta machine before diving into this recipe.
But I didn't. And this past Saturday did not go well for me in my tiny kitchen. I made a giant mess, wasted a bunch of squid ink, ended up ordering takeout for dinner and still had to clean up the aforementioned messy kitchen.
Seriously, this was one of my messiest kitchen disasters to date. My kitchen may be tiny, but it still takes a while to clean up after all that cooking.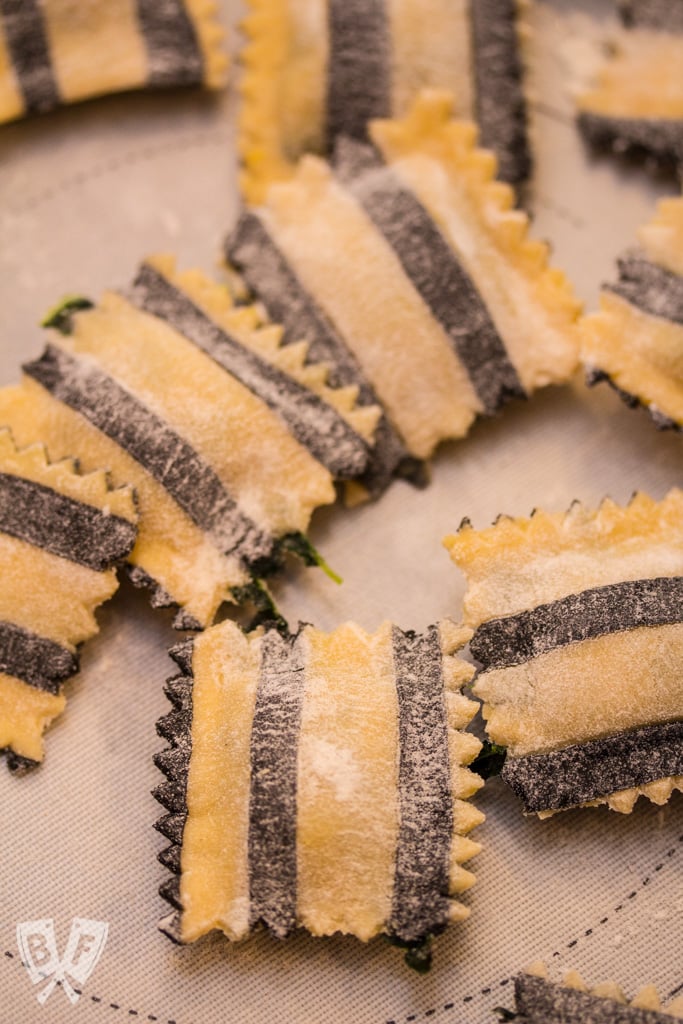 I woke up on Sunday morning determined not to let this failure defeat me. I did some research on how to use my pasta attachments, because apparently I had forgotten a lot over the years!
I also decided to try out a new pasta recipe that was much easier than what I set out to do originally. The Kitchn has an awesome tutorial on how to make pasta dough in the food processor, and I can't recommend it highly enough. This made it so.much.easier for me. I didn't feel like it would be the end of the world if I ended up having to throw out dough that only took a few minutes to come together.
So what I did was to make 2 separate batches of that pasta dough. The first one I prepared as written, and for the second I added 4 teaspoons of squid ink. I definitely had to add more flour both when making and rolling the black pasta, since there was extra moisture in it. But 2 teaspoons of squid ink per cup of flour works out well for a really nice, black pasta.
Once the dough had rested, the really tedious part began. I'm planning to do a step-by-step tutorial sometime, but for now, I'll do my best to explain how I managed to get a successful black and white stripe design on these beauties.
I started by cutting my ball of plain pasta dough into quarters. I took one quarter out and left the rest wrapped in plastic to prevent it from drying out. I lightly floured my work surface and dusted the ball of dough before running it through my pasta rollers. I started on the widest setting (on my roller set, that's #1).
I ran the dough through a few times, folding it in half after each pass until it started to feel soft and elastic – about 5 or 6 passes did the trick. I started on the lowest speed and after 2 or 3 passes moved it up one notch higher. Folding the ragged edges in helped square them off, which made the sheet of pasta dough much cleaner to work with.
I dusted it with more flour whenever it started to get sticky so it wouldn't get caught between the rollers. I then moved on to roller setting #2 and did 2-3 passes, without any more folding. I repeated this process until I got up to #5 and did one pass at that setting.
I then dusted the long sheet of plain pasta with a little flour and folded it in half so it would fit on a lightly floured baking sheet, covered with a slightly damp kitchen towel while I prepared a sheet of black pasta.
I did the same thing with the black pasta, and after it was done being rolled out, I used the fettuccine cutter attachment to get consistently sized strips. I tossed those lightly with flour and rolled them into a little nest and put that under the towel with the other pasta.
I then pulled out the white pasta sheet and cut it into a manageable length. I took a few of the black strips out and set them next to it.
To adhere the stripes, the best method I found was to use a pastry brush and sprinkle a little water all over the top of the pasta sheet. I kept the pastry brush and small bowl of water next to me on standby. I rubbed the water evenly over the sheet of plain pasta with my hand and began evenly spacing black fettuccine strands evenly down the length of the sheet.
Once they were all in place, I checked the ends of each strand, and if they were loose/dry underneath, I brushed a small amount of water underneath and pressed the black piece down gently to adhere. I then pressed down all over the whole piece with the palms of my hands to set everything in place before going back to the pasta roller.
I trimmed the ends of the sheet of pasta so the strips weren't hanging off unevenly (because these can easily get stuck and pulled too quickly in the rollers). I dusted the sheet with flour and rubbed it around until it wasn't sticky at all so I could proceed with rolling. I took the striped sheet and ran it through on setting #1 a few times, then once or twice at #2 and #3, followed by a single pass at #4. That seemed to adhere the stripes well enough for everything to hold together.
Luckily, I had made the filling the night before, so I was able to move on to filling the ravioli using the ravioli maker attachment. If you don't have one, this post on Serious Eats has some good alternative methods for filling/forming your ravioli.
My filling was on the thick side, and I definitely had a bit of trouble getting the filling to flow down through the attachment. I ended up guiding some with my fingers instead of the pointed spoon that came with it. I got it to work, but next time, I'll use a thinner filling to see if that helps.
Once the ravioli were formed, I let them sit for 5-10 minutes before pulling them apart. I set them on a floured tray, covered with a slightly damp towel while I proceeded with the rest of the dough. I only ended up using 1/2 of the regular pasta and 1/4 of the squid ink pasta to make ravioli. I didn't have it in me to make more. I turned the remaining pasta into fettuccine and popped it in the freezer so I could save it for later.
Then came time to cook the pasta and make the sauce. I had a pot of salted water on the stove heating up while I filled the pasta.
I wanted to compliment the flavors of roasted garlic, sweet potato and kale that were going on inside the pasta, so I opted for a brown butter sauce with crispy sage leaves.
The sauce comes together pretty quickly, especially compared to the rest of the recipe. To cook the ravioli, you want to bring the water to a boil and then lower it to a simmer, because a rapid boil will break the delicate fresh ravioli.
They only need to cook for 1-2 minutes, until they float. Take 'em out, drizzle some of the brown butter sauce over top and garnish with the crispy sage leaves and some shaved Parmesan.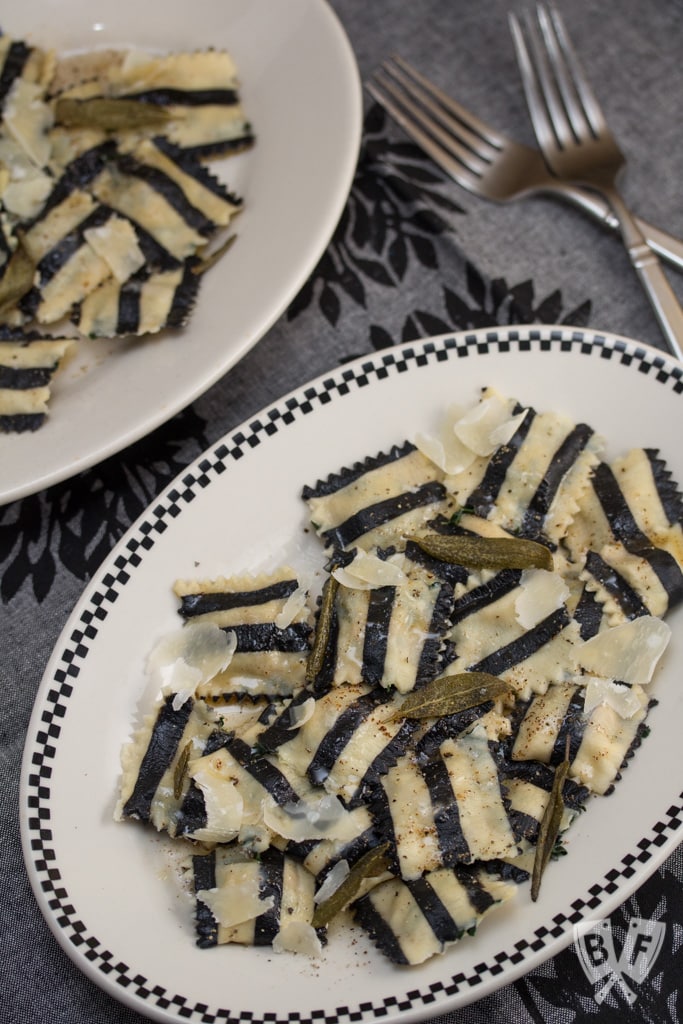 These were a ton of work, but they were honestly one of the most rewarding things I've ever made in my tiny kitchen. This experience also made me realize that I need to make my own pasta more often!
I took some of the fettuccine and cooked it up quickly for lunch the next day with some leftover shrimp with scampi sauce from a local Italian restaurant and it worked out SO beautifully. I mean WOW.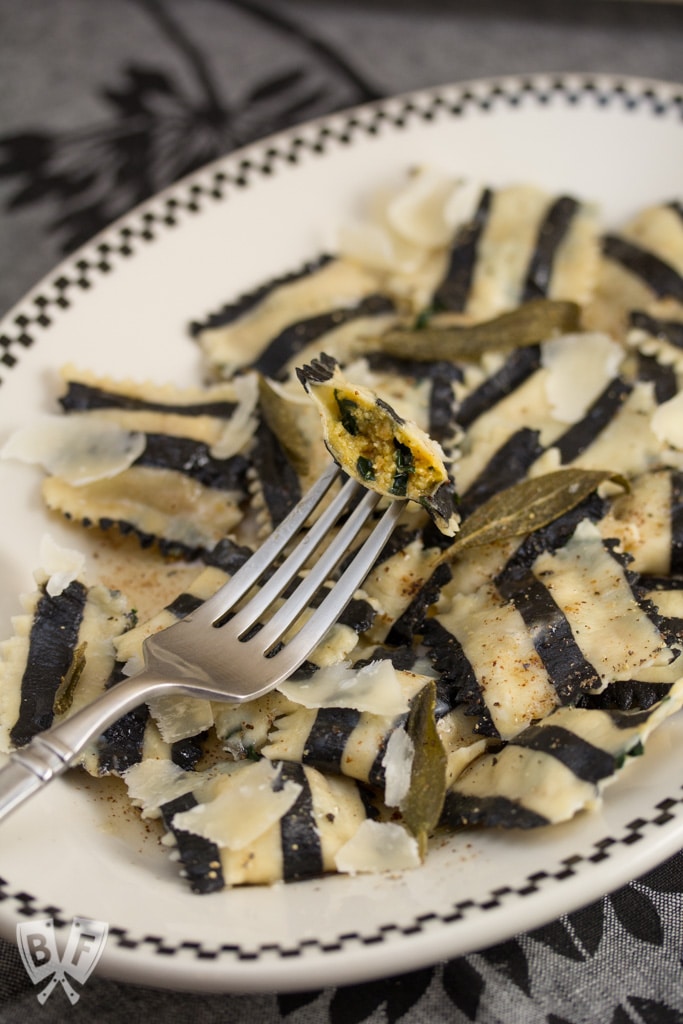 The filling went so well with the pasta. This dish just screams autumn comfort food.
Don't let the squid ink scare you – you may need to order it online if you don't have an Italian specialty store nearby, but it's worth it for the presentation! The owner of my local shop told me that it freezes really well, so I got a little glass jar and stashed it in the freezer. More squid ink goodness to come soon, guys!
Just be warned that the ink does smell a little fishy, but once it's cooked, you don't taste it. It just tastes like delicious, homemade, fresh pasta!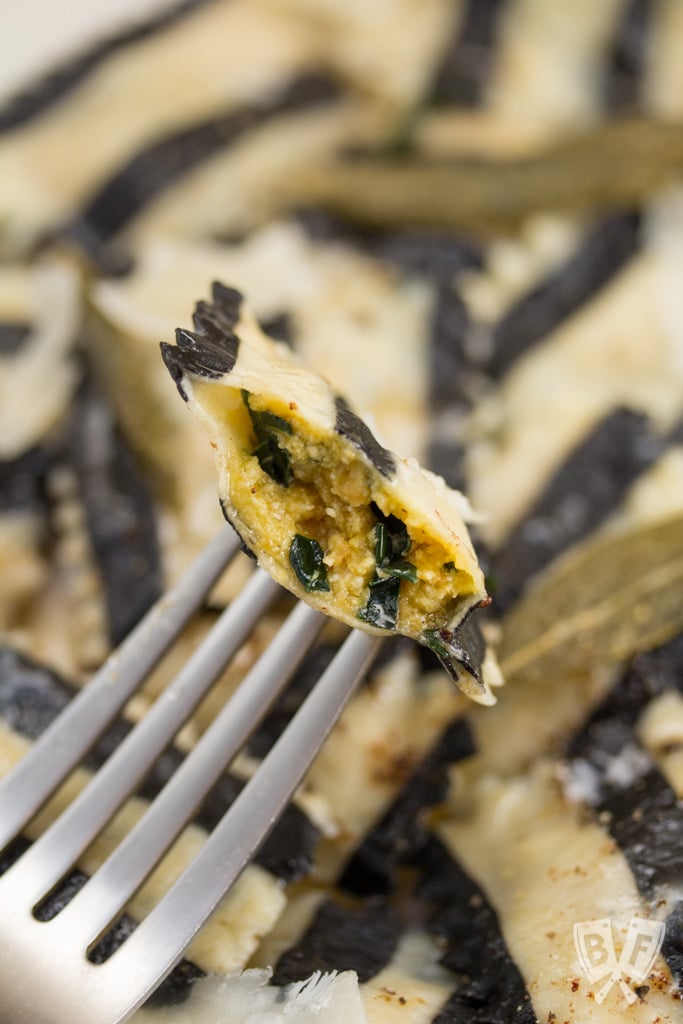 Looking for more pasta recipes? Check out my family's favorites:
Ready? It's SHOWTIME!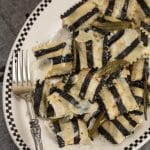 Ghost with the Most Roasted Sweet Potato Ravioli
Author:

Yield:

4

Servings (plus extra filling)

1

x

Category:

Pasta

Method:

Stovetop

Cuisine:

Italian
---
Description
Homemade black and white striped pasta is stuffed with roasted veggies and topped with brown butter sauce and crispy sage leaves my Halloween tribute to Beetlejuice!
---
Scale
Ingredients
For sweet potatoes:
2.5

sweet potato, peeled and cut into

1/2

– to 1-inch chunks

3

cloves garlic, peeled and smashed

2 tablespoons

olive oil

1/2 teaspoon

kosher salt

1/4 teaspoon

freshly cracked black pepper
For kale:
2 tablespoons

olive oil

1

bunch lacinato kale, thick stems removed, roughly chopped

1/4 teaspoon

kosher salt

1/4 cup

water
To finish ravioli filling:
15 ounces

part skim ricotta

1/2 teaspoon

freshly grated nutmeg
Homemade black & white striped pasta dough*
For sauce:
1

stick unsalted butter

10

fresh sage leaves
For garnish:
Freshly shaved Parmesan cheese
---
Instructions
Preheat oven to 425°F.
For sweet potatoes: Place sweet potatoes and garlic in a single layer on a large, rimmed baking sheet. Drizzle on 2 tablespoons oil and season with salt and pepper. Toss gently to coat. Roast for 15 minutes, stir, then roast for an additional 10 minutes, or until potatoes are tender when pierced with a fork and are beginning to caramelize around the edges.
For kale: While the sweet potatoes are roasting, heat 2 tablespoons oil in a large, nonstick skillet over medium high heat. Add kale and toss with tongs a few times to coat it in the oil. Add salt and water, then cover with a tight-fitting lid. Let cook, tossing occasionally, until the kale is dark, glossy green and has wilted down a bit.
To finish ravioli filling: In the bowl of a food processor, add kale and pulse several times until evenly chopped. Pour kale into a large bowl and do the same with half of the sweet potato mixture. Pulse it several times to mash it up, but don't worry about getting it super smooth. Add that to the kale and process the other half of the sweet potatoes. Don't forget to include those roasted garlic cloves! If there are any large chunks of potato, you can mash them with a fork if desired. Add ricotta and nutmeg and mix well to combine.
To prepare ravioli: Fill striped pasta sheets with the roasted sweet potato mixture and seal well (see my blog post for notes/techniques for this portion of the recipe).
For sauce: Place butter in a medium skillet. Turn the heat on to medium-low and allow the stick to melt fully without stirring the butter. Once melted, add the sage leaves. Continue to cook, swirling the pan occasionally, until the butter foams up and brown bits start to form. Let it cook until it's nicely brown, being careful not to burn it.
Remove sage leaves from the butter with tongs and place on a paper towel lined plate.
To serve, divide ravioli between plates. Pour a few spoonfuls of brown butter sauce over each portion and garnish with crispy sage leaves and shaved Parmesan. Season with additional salt and pepper, if desired. Enjoy!
---
Notes
*Be sure to check out the notes on my blog post above for the notes/technique on how to make homemade striped black and white pasta sheets, and to fill the ravioli.
I happened to have a giant sweet potato to work with, so this recipe makes a ton of filling. The sauce is enough for 4 servings, but there's much more filling than that. Feel free to scale it back!
Keywords: Halloween, pasta, squid ink
Recipe Card powered by
PHEW. So that was intense, right? Like I said, I'll put together a tutorial with step-by-step photos in the future if there's enough interest. Let me know!
Wanna see what else the FFFB group came up with to honor their favorite Halloween films? These bloggers KILLED it! Pun oh so very much intended 😉
Ashley from Quarter Life [Crisis] Cuisine RedRUM Cocktail inspired by The Shining
Matt from Nomageddon made Pea Soup with Crabmeat and a Balsamic Drizzle inspired by The Exorcist
Sophia from NY Foodgasm made Red Velvet Pecan Pie inspired by Evil Dead
Julie from Bread Booze Bacon made Reanimation Reagent Rum Jello Shots inspired by Re-Animator
Happy Halloween, everyone!
Note: This post includes affiliate links for items that I genuinely enjoy. Big Flavors will receive a tiny commission from purchases made through affiliate links on this site at no added cost to you. This allows us to cover site-related expenses and helps to keep us cooking up a storm!