This post may contain affiliate links, which won't change your price but will share some commission.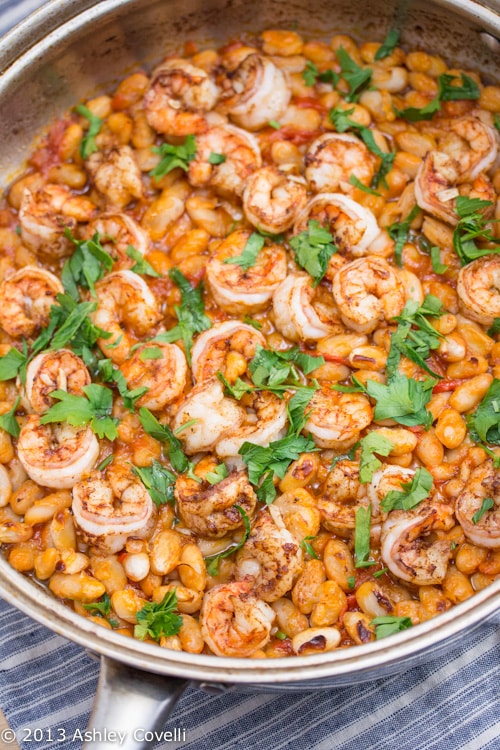 I keep things like shrimp and chicken in the freezer so I can make meals without having to worry about buying meat. It's nice because I usually have enough on hand to put something together without running out to the store. This recipe, however, called for a few things that I didn't have, but it just looked so good that I didn't mind at all. I used a dried bay leaf for this, and it turned out so delicious! You really build layers of flavor. It isn't a lot of work (especially if you buy already peeled and deveined shrimp, or you convince your husband to peel shrimp for you while you prep the rest of the meal) and the payoff is huge. I broiled some slices of bread while the rest of the ingredients were cooking on the stovetop to get it nice and toasty. It's great to dip the bread in the sauce that's left in the bottom of the pan. I really enjoyed slathering the bread with some beans, sauce and shrimp and devouring it. I will definitely be making this again. Wow!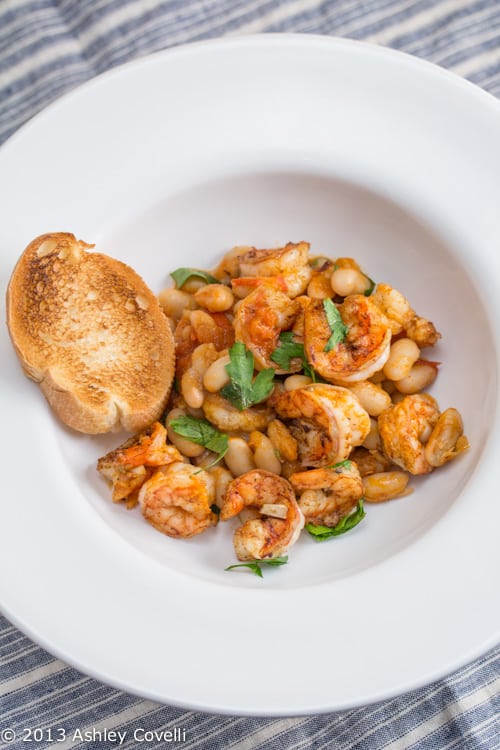 Garlic Shrimp and White Beans
The Bon Appétit Test Kitchen - October 2012
6 tablespoons olive oil, divided
3 garlic cloves, minced, divided
2 dried chiles de árbol
1 bay leaf, preferably fresh
1 ¼ cups chopped tomato (about 8 ounces)
Kosher salt, freshly ground pepper
1 tablespoon tomato paste
2 15-ounce cans white beans (such as cannellini), rinsed, drained
1 cup low-sodium chicken broth
1 pound medium shrimp
1 teaspoon smoked paprika
2 tablespoons chopped flat-leaf parsley
Grilled bread (optional)
Ingredient info: Dried chiles de árbol are available at Latin markets, specialty foods stores, and some supermarkets.
Preheat broiler. Heat 2 tablespoons oil in a large, heavy, ovenproof skillet over medium heat. Add 1 garlic clove, chiles, and bay leaf and cook, stirring constantly, just until fragrant, 1-2 minutes (do not allow garlic to burn). Add tomato; season with salt and pepper. Cook, stirring and smashing tomato with the back of a wooden spoon, until tomato is completely broken down, about 5 minutes.
Add tomato paste and cook, stirring constantly, until paste is deep red and caramelized, 3-4 minutes. Stir in beans and broth. Bring to a brisk simmer and cook until juices are slightly reduced and thickened, 3-4 minutes. Season to taste with salt and pepper.
Combine remaining 2 garlic cloves, 2 tablespoons oil, shrimp, and paprika in a medium bowl; season with salt and pepper and toss to evenly coat shrimp. Scatter shrimp over beans in an even layer.
Broil until shrimp are golden and cooked through, about 3 minutes. Drizzle remaining 2 tablespoons oil over shrimp and beans; garnish with parsley. Serve with bread, if desired.
Big Flavors Rating: 5 Stars