This post may contain affiliate links, which won't change your price but will share some commission.
In her book, Lidia says that this is the easiest of the handmade pasta recipes. The dough comes together very quickly in the food processor, and only has two ingredients.
I wasn't able to roll mine out thin enough, so they took a bit longer to cook, but they were great! I froze half of the cavatelli so we can have fresh pasta on a busy night again soon.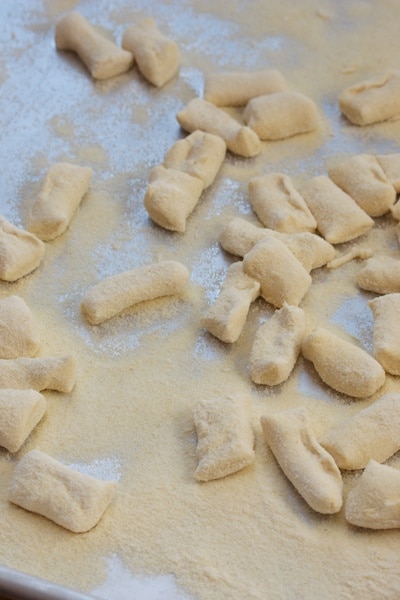 Fresh Cavatelli
Lidia Cooks From the Heart of Italy: A Feast of 175 Regional Recipes - Lidia Matticchio Bastianich and Tanya Bastianich Manuali
Makes about 1 ½ pounds, serving 6
1 pound fine durum-wheat flour (about 3 ¼ cups), plus more as needed
1 ¼ cups very cold water, plus more as needed
Recommended equipment: a food processor fitted with a steel blade
Put the flour inn the bowl of the food processor, and process for a few seconds, to aerate. With the food processor running, pour in the water through the feed tube. Process for about 30 seconds, until a dough forms and gathers on the blade. If the dough does not gather on the blade or process early, it is too wet or dry. Feel the dough, then work in more flour or cold water, in small amounts, using the processor or kneading by hand.
Turn the dough out on a lightly floured surface, and knead by hand for a minute, until it's smooth, soft, and stretchy. Press it into a disk, wrap well in plastic wrap, and let rest at room temperature for at least ½ hour. (You can refrigerate the dough for up to a day, or freeze it for a month or more. Defrost in the refrigerator, and return to room temperature before rolling.)
To form the cavatelli, lightly flour your work surface. Pinch off golf-ball-sized pieces of dough, and roll them out under your palms into long ropes about the thickness of a pencil. Cut the ropes into 1-inch segments or short cylinders; keep pieces in front of you, horizontally (left to right). Flour your hands, especially the tips of the three middle fingers of your right hand unless you are left-handed. Hold these fingertips tightly together, and press them into one of the cut segments, and gently roll toward you.
As your fingertips make indentations in the segment, roll it toward you more so the dough both lengthens and curls around the fingertips. As the curl is complete, lift your fingers up quickly, so the dough segment drops off. It should now resemble a short concave shell - or a hollowed-out boat or canoe - with the impression of your fingers in the hollows and along the edges.
Adjust the pressure of your fingers as needed - if the dough cylinders are not lengthening or forming a hollow, press harder. If they're just flattening beneath your fingers, press a bit more gently. Once you get up to speed, you should be able to roll the cavatelli with a quick downward flick of your fingertips.
Sprinkle the finished cavatelli liberally with flour, and spread them out in a single layer on floured baking sheets. Leave them uncovered, to air-dry at room temperature, until ready to cook. (Or freeze the cavatelli on the sheets until hard, and pack them in airtight plastic bags.)
MacGourmet Rating: 5 Stars