This post may contain affiliate links, which won't change your price but will share some commission.
This was an easy weeknight dinner. The pesto (that's more like a chimichurri in my opinion) is nice and garlicky with a bit of heat from the pepper. The yogurt cools it off and makes it nice and smooth. You don't really taste the almonds in this. I can definitely see using some of the leftover pesto for sandwiches, as suggested. The only change I made was to season the steak with salt and pepper and drizzle it with olive oil before grilling. I used my cast iron grill pan. Simple and tasty.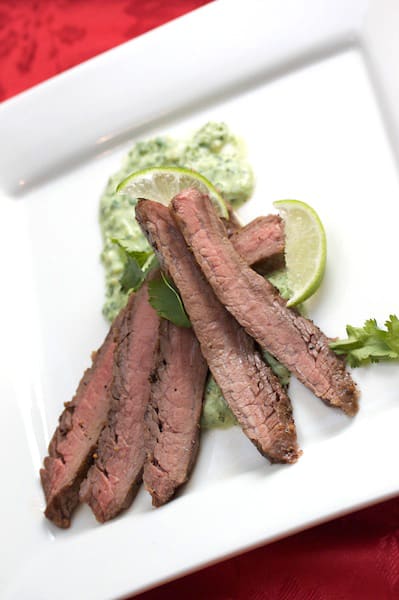 Flank Steak with Cilantro-Almond Pesto
Cooking Light May 2002
Ground almonds thicken this lively herb sauce. The pesto is also good as a spread for burgers and sandwiches, or as a pizza sauce. Most of the fat here is monounsaturated.
Yield: 4 servings (serving size: 3 ounces steak and about 1 tablespoon pesto)
¾ cup fresh cilantro
2 tablespoons slivered almonds, toasted
1 tablespoon chopped seeded jalapeño pepper
⅛ teaspoon salt
⅛ teaspoon black pepper
1 garlic clove, chopped
3 tablespoons plain fat-free yogurt
1 ½ teaspoons fresh lime juice
1 (1-pound) flank steak, trimmed
Cilantro sprigs (optional)
Preparation
Prepare grill.
Combine first 6 ingredients in a blender; process until finely chopped (about 15 seconds). Add yogurt and juice; process until smooth.
Grill steak 6 minutes on each side or until desired degree of doneness. Cut steak diagonally across grain into thin slices. Serve steak with pesto. Garnish with cilantro sprigs, if desired.
Nutritional Information
Calories: 209 (47% from fat)
Fat: 10.8g (sat 3.9g,mono 4.9g,poly 0.8g)
Protein: 24.6g
Carbohydrate: 2.4g
Fiber: 0.6g
Cholesterol: 57mg
Iron: 2.5mg
Sodium: 152mg
Calcium: 36mg
MacGourmet Rating: 4 Stars