Family-Style Chicken Spaghetti
This post may contain affiliate links, which won't change your price but will share some commission.
Transform rotisserie chicken into a quick, satisfying weeknight meal in just 10 minutes!
I saw this easy pasta recipe in the July issue of Cooking Light and knew it would be perfect for dinner on a busy weeknight.
I haven't used a whole lot of store-bought rotisserie chicken in the past, but I'm beginning to really appreciate it for days when I'm busy but still want to eat something (mostly) homemade.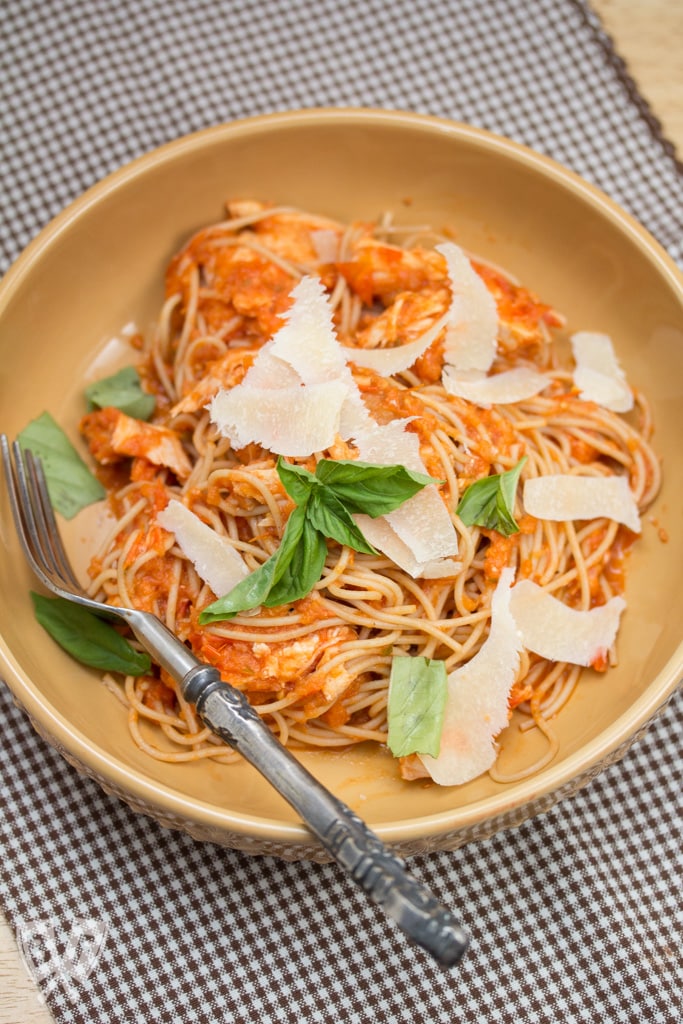 This recipe uses a method similar to what I do with my Balsamic Roasted Grape Tomatoes Over Angel Hair, only instead of roasting the tomatoes, they take an even quicker trip underneath the broiler.
The sauce is then blended to get a quicker version of a fresh tomato sauce. The fresh basil really livens this dish up, and my family really enjoyed the addition of shredded chicken.
My family absolutely adores roast chicken. In fact, hopefully one day soon, I'll roast 2 chickens when we just need one, then shred and freeze one of them to make meals like this possible without having to buy a rotisserie chicken.
But this is a perfectly simple, doable recipe that was a big hit at our dinner table.
8 ounces uncooked whole-wheat spaghetti
2 teaspoons olive oil
3 garlic cloves, smashed
2 pt. cherry tomatoes
1 medium onion, cut into 1-in. wedges
1/4 cup fresh basil leaves, divided
2 tablespoons unsalted tomato paste
1/2 teaspoon kosher salt
1/2 teaspoon freshly ground black pepper
8 ounces shredded skinless, boneless rotisserie chicken breast (about 2 cups)
3 tablespoons shaved Parmesan cheese
See MyRecipes for the full recipe.
Looking for more pasta dishes? Or maybe chicken recipes? How about both?
What are your favorite quick & easy meals? I'd love to hear about them in the comments section below!