This post may contain affiliate links, which won't change your price but will share some commission.
I had a plan, and that plan was to make some killer fried chicken for my husband for dinner. He looooooves chicken, especially fried, but I was always too much of a wimp to deep fry it at home.
Well, that finally changed. And this recipe is knock-your-socks-off phenomenal. I can't recommend it highly enough!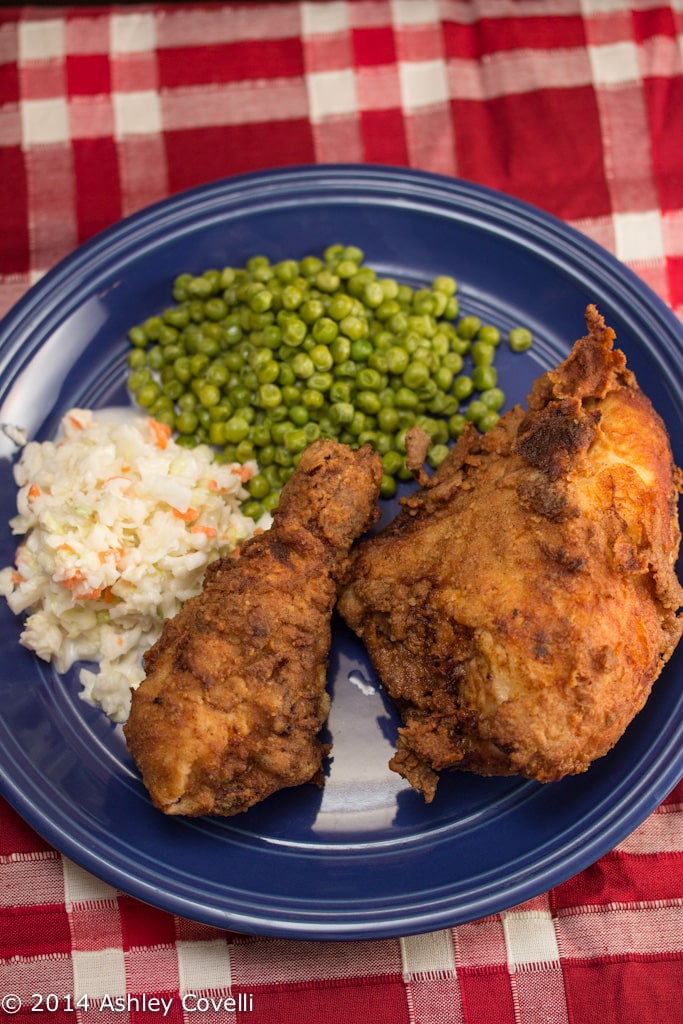 You throw the marinade for this chicken together a day or 2 before you want to cook it, and then toss it in a spiced flour mixture and let it sit for an hour before frying it up and digging in. I didn't have onion powder with green onion and parsley, so I threw in some minced chives and dried parsley and it worked out just right.
It was beautifully crispy on the outside and moist and juicy on the inside. It had a bit of a kick from the cayenne, and went perfectly with some cole slaw and peas. Next time I make this, I hopefully won't have a super annoying cold and I'll be able to make some Southern Buttermilk Biscuits to go with it. Yum.
This dish will totally score you brownie points with whoever you make it for. Guaranteed!
Deviled Fried Chicken
Bon Appétit August 1998
Serves 4
Deviled is a southern term for a dish that is highly seasoned. To make life easier, have the butcher cut up the chicken, and use a small chicken — around three pounds — so that it will cook through quickly. If you're cutting it yourself, start by going along both sides of the backbone with kitchen shears or a large knife. Once the backbone has been removed, cut the chicken into eight pieces (two breasts, wings, legs and thighs); include the top third of each breast with the wings for a more generous serving. The chicken needs to marinate for at least a day, so plan accordingly.
2 cups buttermilk
¼ cup Dijon mustard
2 tablespoons onion powder with green onion and parsley
5 teaspoons salt
4 teaspoons dry mustard
4 teaspoons cayenne pepper
2 ½ teaspoons ground black pepper
1 3- to 3 ¼-pound fryer chicken, backbone removed, chicken cut into 8 pieces, skinned (except wings)
3 cups all purpose flour
1 tablespoon baking powder
1 tablespoon garlic powder
5 cups (or more) peanut oil (for frying)
In 1-gallon resealable plastic bag, mix buttermilk, Dijon mustard, 1 tablespoon onion powder, 1 teaspoon salt, 1 teaspoon dry mustard, 1 teaspoon cayenne and 1 teaspoon black pepper. Add chicken pieces. Seal bag, eliminating air. Turn bag to coat chicken evenly. Refrigerate at least 1 day and up to 2 days, turning plastic bag occasionally.
Whisk flour, baking powder, garlic powder, remaining 1 tablespoon onion powder, 4 teaspoons salt, 3 teaspoons dry mustard, 3 teaspoons cayenne and 1 ½ teaspoons black pepper in 13 x 9 x 2-inch glass dish. With marinade still clinging to chicken pieces (do not shake off excess), add chicken to flour mixture; turn to coat thickly. Let chicken stand in flour mixture for 1 hour, turning chicken occasionally to recoat with flour mixture.
Pour oil to depth of 1 ¼ inches into deep 10- to 11-inch-diameter pot. Attach deep-fry thermometer. Heat oil over medium-high heat to 350°F. Add 4 pieces of chicken, skinned side down, to oil. Reduce heat to medium-low and fry 5 minutes, adjusting heat to maintain oil temperature between 280°F and 300°F (oil should bubble constantly around chicken). Using wooden spoons, turn chicken over. Fry 7 minutes. Turn chicken over again. Fry until deep golden brown and cooked through, about 3 minutes longer. Using same spoons, transfer chicken to large rack set on baking sheet.
Reheat oil to 350°F. Repeat frying with remaining 4 pieces of chicken. Serve chicken warm or at room temperature within 2 hours, or chill up to 1 day and serve cold.
Big Flavors Rating: 5 Stars