This post may contain affiliate links, which won't change your price but will share some commission.
The first time I had stuffed bell peppers, they were amazing. My friend's mom made them for us, and it was one of the tastiest things I had ever eaten.
Since then, I've never found any that I really cared for. In fact, I checked, and I haven't tried cooking them myself other than once in 2007, back when my blog was just a baby 😉
Anyway, I saw that Elise over at Simply Recipes has 2 versions of stuffed peppers on her site - one that her mom makes, and one that her dad makes. I was torn between the 2 recipes, but ended up going for the one with lots of ketchup.
It sounded more meatloaf-y to me. Yum! I had some grass fed ground beef to use, and was glad to get a chance to use some leftover rice that I had in the fridge. These were definitely really good, especially with the grass fed beef, but I think I'm still on my quest for the perfect stuffed bell pepper recipe.
At the rate I'm trying them, it's gonna be a long time before I find it 😉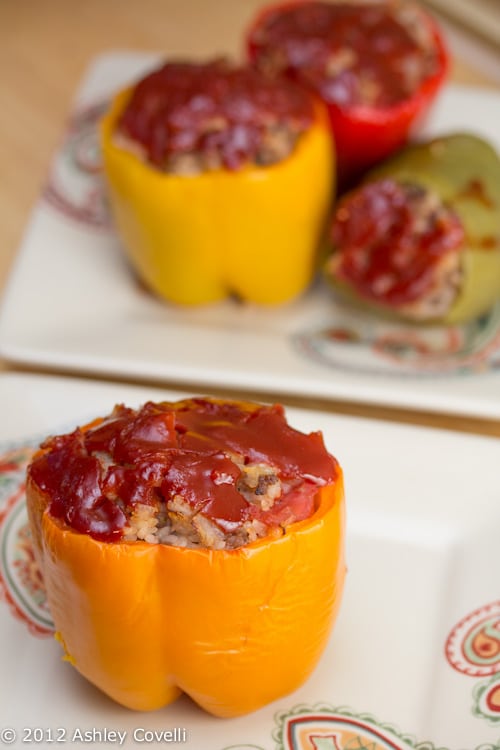 Dad's Stuffed Bell Peppers
Simply Recipes
A classic American dish that one can't easily find in restaurants (unless it is a cafeteria) is stuffed bell peppers. It's essentially meatloaf stuffed into bell peppers and baked in the oven. My mom and dad have their own different versions, both delicious. Here is my dad's:
Prep time: 10 minutes
Cook time: 50 minutes
4 bell peppers, any color
Salt
5 tablespoon extra-virgin olive oil
1 medium yellow onion, peeled and chopped
1 clove of garlic, peeled and chopped
1 lb of lean ground beef
1 ½ cup of cooked rice
1 cup chopped tomatoes, fresh or canned (if using can, drain of excess liquid first)
1 tablespoon chopped fresh oregano or 1 teaspoon of dried oregano
Fresh ground pepper
½ cup ketchup
½ teaspoon of Worcestershire Sauce
Dash of Tabasco sauce
1. Bring a large pot of water to a boil over high heat. Meanwhile, cut top off peppers 1 inch from the stem end, and remove seeds. Add several generous pinches of salt to boiling water, then add peppers and boil, using a spoon to keep peppers completely submerged, until brilliant green (or red if red peppers) and their flesh slightly softened, about 3 minutes. Drain, set aside to cool.
2. Preheat oven to 350 degrees F. Heat 4 tablespoon of the oil in a large skillet over medium heat. Add onions and cook, stirring often, until soft and translucent, about 5 minutes. Add the garlic and cook a minute more. Remove skillet from heat, add meat, rice, tomatoes, and oregano, and season generously with salt and pepper. Mix well. (You may find it easier to put the ingredients at this point into a large bowl and mix together with your hands.)
3 Drizzle remaining 1 tablespoon of olive oil inside the peppers. Arrange the cut side of the peppers up in a baking dish, then stuff peppers with filling. Combine ketchup, Worcestershire sauce, Tabasco sauce, and ¼ cup of water in a small bowl, then spoon over filling. Add ¼ cup of water to the baking dish. Place in oven and bake for 40-50 minutes (or longer, depending on how big the peppers are that you are stuffing), until the internal temperature of the stuffed peppers is 150-160°F.
Yield: Serves 4-6.
Big Flavors Rating: 4 Stars