This post may contain affiliate links, which won't change your price but will share some commission.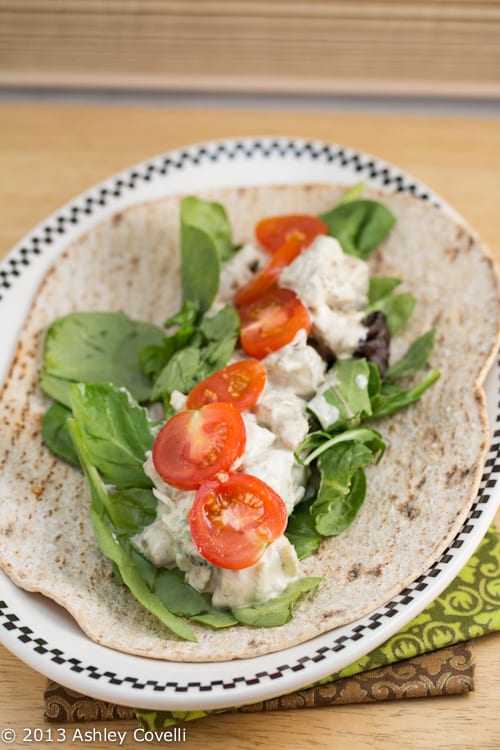 This is the second recipe I've made from the newest issue of Cooking Light. It was a really nice, light dinner. I changed a few things - I used regular mayo and Greek yogurt. The pistachios I had were salted, but I thought that made it better. I really liked the crunch of the nuts and celery with the sweetness from the raisins. It was cool and creamy, and tasted great as a wrap! I served it with Mango and Avocado Salad with Balsamic-Lime Vinaigrette and it was a nice, light dinner.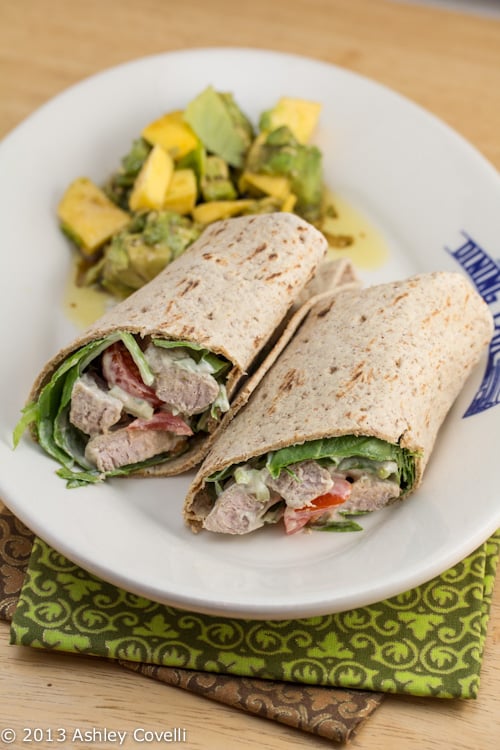 Curried Pork Salad Wraps
Cooking Light June 2013
If you can't find lavash, try lower-sodium flatbreads or sandwich wraps.
2 teaspoons olive oil
1 (1-pound) pork tenderloin, trimmed and cut into bite-sized pieces
2 teaspoons curry powder
½ teaspoon kosher salt
¼ cup chopped celery
¼ cup chopped unsalted, shelled, dry-roasted pistachios
¼ cup raisins
3 tablespoons plain fat-free yogurt
3 tablespoons canola mayonnaise
4 lavash flatbreads
8 butter lettuce leaves
12 (⅛-inch-thick) slices tomato
1. Heat a large skillet over medium-high heat. Add olive oil to pan; swirl to coat. Add pork, curry, powder, and salt to pan; sauté 4 minutes or until pork is done. Let pork mixture cool slightly. Combine pork mixture, celery, pistachios, raisins, yogurt, and canola mayonnaise in a medium bowl.
2. Top each lavash with 2 lettuce leaves, 3 tomato slices, and about ¾ cup pork mixture, leaving a ½-inch border around edges. Roll up wraps, and cut in half diagonally.
Big Flavors Rating: 4 Stars