This post may contain affiliate links, which won't change your price but will share some commission.
This recipe is really warm and spicy. It was perfect for a cold night. I served it with Flaky Griddle-Cooked Breads (Malabar Parantha) as suggested in the book, on top of rice with some plain yogurt. The yogurt is really key here if you want to cool off your palette every once in a while, as this one is pretty spicy. The potatoes melt down a little and make it a very thick, tasty curry.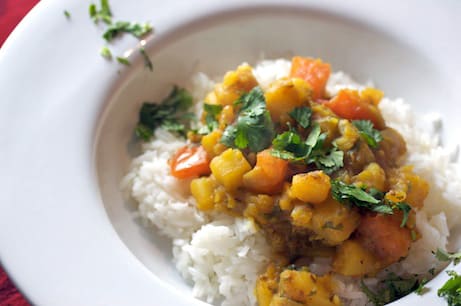 Cumin-Scented Potatoes with Tomatoes (Ghurma Aloo)
660 Curries: The Gateway to Indian Cooking - Raghaven Iyer
Serves 6
1 ½ pounds russet or Yukon Gold potatoes, peeled, cut into ½-inch cubes, and submerged in a bowl of cold water to prevent browning
2 tablespoons canola oil
1 tablespoon cumin seeds
1 small red onion, cut in half lengthwise and then cut into ½-inch cubes
1 teaspoon ground turmeric
2 teaspoons coarse kosher or sea salt
1 teaspoon cayenne (ground red pepper)
1 medium-size tomato, cored and cut into 1-inch cubes
2 tablespoons finely chopped fresh cilantro leaves and tender stems
1. Drain the potatoes and pat them dry.
2. Heat the oil in a medium-size saucepan over medium-high heat. Add the cumin seeds and cook until they sizzle, turn reddish brown, and are fragrant, 5 to 10 seconds. Add the potatoes, onion, and turmeric, and stir-fry until the potatoes and onion are lightly browned around the edges, 4 to 6 minutes.
3. Sprinkle in the salt and cayenne, and stir once or twice. Pour in 1 cup water and bring to a boil. Reduce the heat to medium-low, cover the pan, and cook, stirring occasionally, until the potatoes are almost fall-apart tender, 18 to 20 minutes.
4. Stir in the tomato and cilantro, and cover the pan. Simmer, stirring occasionally, until the tomato is warmed through, about 2 minutes. Then serve.
Tip: For a thicker sauce, coarsely mash some of the potato cubes.
MacGourmet Rating: 4 Stars