This post may contain affiliate links, which won't change your price but will share some commission.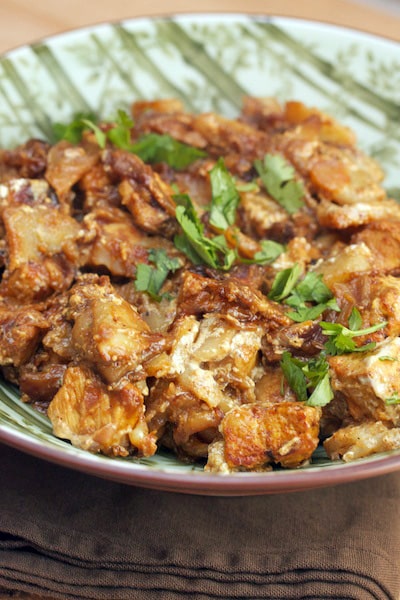 Since it's getting cooler outside again, I wanted to make a few recipes from one of my favorite books again. I don't have any other cookbooks that I've used so much. I picked it up from the library a while back, after hearing great reviews, and found so many good things that I asked for it for Christmas. This recipe is really spicy and has a lot of great flavors. The spice blend is something I made before, but ran out of. I used plain Greek yogurt for this one. It doesn't look too pretty, but it was really good!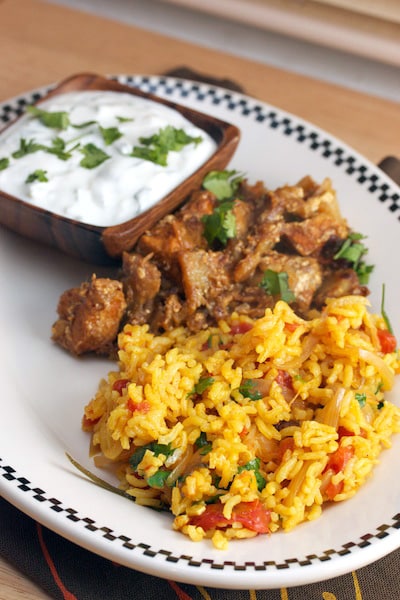 Cubed Pork with Potatoes, Yogurt, and Tamarind (Coorgh-Style Pork Curry)
660 Curries: The Gateway to Indian Cooking - Raghaven Iyer
Serves 8
1 ½ teaspoons cayenne (ground red pepper)
½ teaspoon ground turmeric
2 pounds boneless pork loin chops, cut into 1-inch cubes
1 pound russet or Yukon Gold potatoes, thinly sliced, and submerged in a bowl of cold water to prevent browning
2 tablespoons canola oil
1 teaspoon cumin seeds
1 large red onion, cut in half lengthwise and thinly sliced
3 fresh or dried bay leaves
1 teaspoon tamarind paste or concentrate
2 teaspoons coarse kosher or sea salt
½ cup Thick Yogurt (page 22)
1 teaspoon Punjabi garam masala (page 25)
1. Combine the cayenne and turmeric in a medium-size bowl. Add the pork and toss to coat it with the spices. Cover and refrigerate for at least 30 minutes or as long as overnight, to allow the spices to flavor and tenderize the meat.
2. Drain the potatoes and pat them dry with paper towels.
3. Heat the oil in a large saucepan over medium heat. Add the potatoes carefully and cook, stirring occasionally, until they are light brown around the edges and some are sticking to the bottom, 5 to 8 minutes. Transfer the potatoes to a plate.
4. Add the cumin seeds, onion, bay leaves, and pork to the same pan, still over medium-high heat, and cook, stirring occasionally, until the pork releases its juices and the onion slices start to sweat, 5 to 10 minutes. The combined liquid will be just enough to deglaze the pan, releasing the stuck-on bits of potatoes and cumin. Once the liquid evaporates, lower the heat to medium and continue to cook, stirring more frequently, until the pork starts to brown, 5 to 10 minutes.
5. In a small bowl, stir the tamarind paste into ½ cup water. Stir this muddy-looking liquid into the pan. Add the salt and heat to a boil. Then reduce the heat to medium-low, cover the pan, and simmer, stirring occasionally, until the meat is slightly tender, 10 to 15 minutes.
6. Stir in the potatoes and continue to simmer, covered, stirring occasionally, until both meat and potatoes are fork-tender, 25 to 30 minutes.
7. Fold in the yogurt and masala, and serve.
Big Flavors Rating: 4 Stars