This post may contain affiliate links, which won't change your price but will share some commission.
The name of this recipe is misleading...it wasn't crunchy at all. But it tasted great! And the sauce was fanfriggintastic! I'll definitely be making the sauce again. I think that using Panko or deep-frying would make this recipe deliver on the crunchy front. The amount of parmesan adds great flavor. I always use regular (usually whole wheat) breadcrumbs and sprinkle in some Italian seasoning whenever a recipe calls for seasoned breadcrumbs, and it works out great. This is a nice, easy weeknight dish. I served this with some peas and leftover Quinoa Salad with Apple, Chickpeas, Toasted Almonds & Apple Cider Vinaigrette.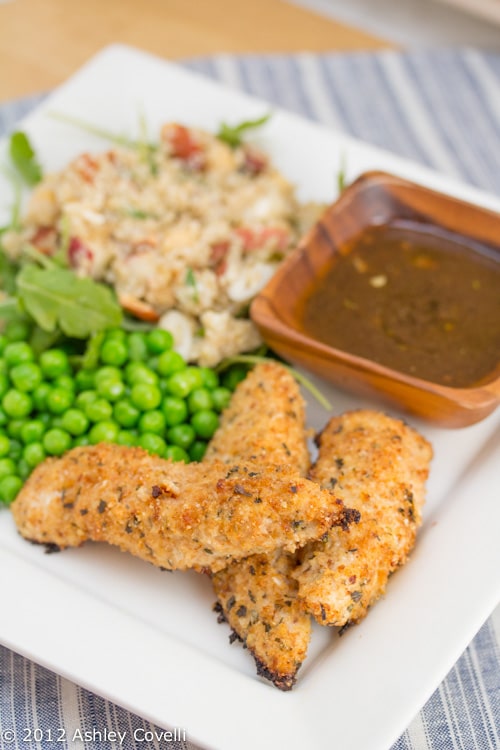 Crunchy Parmesan Chicken Tenders
Giada De Laurentiis
Total Time: 27 min
Prep: 15 min
Cook: 12 min
Yield:: 6 servings
4 tablespoons plus ½ cup extra-virgin olive oil
1 cup buttermilk
1 ½ pounds chicken tenders (about 18)
3 large garlic cloves, minced
½ teaspoon salt
3 tablespoons balsamic vinegar
Freshly ground black pepper
1 ¼ cups freshly grated Parmesan
¾ cup Italian-style seasoned bread crumbs
Preheat the oven to 500 degrees F.
Brush 1 tablespoon of oil over each of 2 heavy large lined baking sheets. Place the buttermilk in a large bowl. Add the chicken tenders and stir to coat. Let stand at least 15 minutes and up to 30 minutes.
Meanwhile, mash the garlic with the salt in a medium bowl. Whisk in the vinegar and then the remaining ½ cup of oil. Season the vinaigrette, to taste, with pepper. Transfer the vinaigrette to a small serving bowl.
Stir the Parmesan and bread crumbs in a pie dish. Remove the chicken tenders from the buttermilk and dredge them in the bread crumb mixture to coat completely, pressing to adhere. Arrange the coated chicken tenders on the prepared baking sheets, spacing evenly. Drizzle the remaining 2 tablespoons of oil over the chicken tenders and bake until they are cooked through and golden brown, about 12 minutes.
Transfer the chicken tenders to a platter and serve the vinaigrette alongside for dipping.
Big Flavors Rating: 4 Stars