This post may contain affiliate links, which won't change your price but will share some commission.
My husband's work schedule has been a bit chaotic recently, so I wanted to make something quick and easy for dinner. I'm always on the lookout for new slow cooker recipes, and this is one that I've had pinned for quite some time.
It also made me realize that I haven't been cooking very many chicken dishes lately. I need to remedy that - not that I'm complaining about the variety of dishes I've been cooking lately.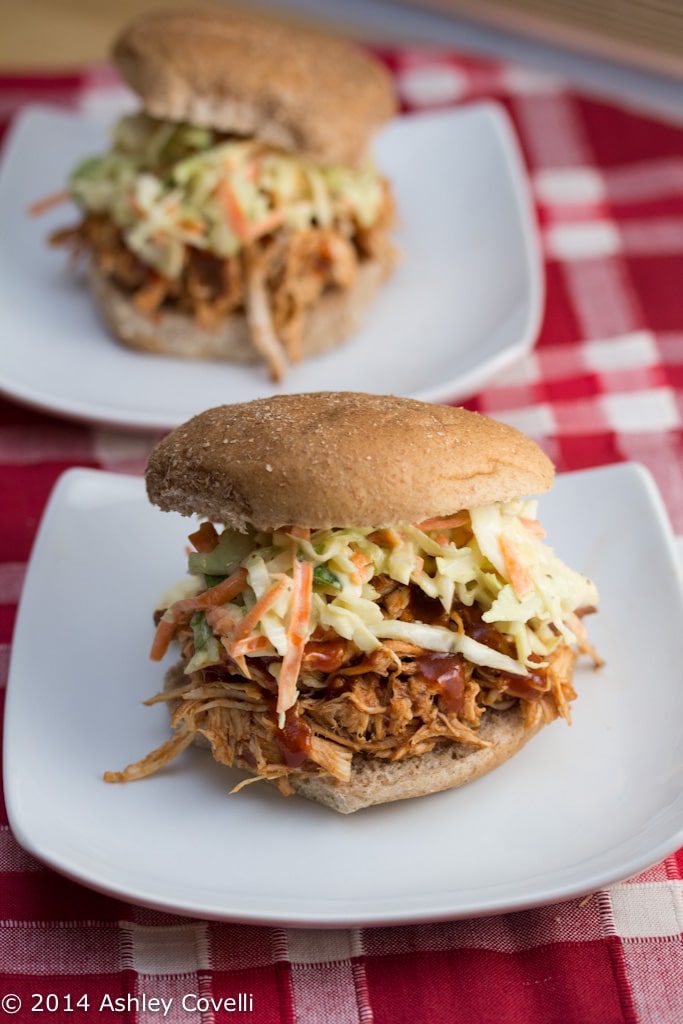 Anyhow, this chicken was a huge hit! I used a Sam Adams Boston Ale and Stubb's Original BBQ Sauce and the flavor was fantastic. I drizzled a little extra BBQ sauce on top of each pile-o-chicken, and topped it with a homemade Greek Yogurt Mustard Cole Slaw (recipe coming tomorrow!). It was a match made in sweet, tangy BBQ heaven.
I saved half of the chicken and froze it - I'll report back on how it holds up over time.
Crockpot BBQ Beer Chicken
How Sweet Eats
serves about 8-10
3 pounds boneless, skinless chicken breasts (about 6 large)
1 tablespoon onion powder
1 tablespoon smoked paprika
1 teaspoon garlic powder
½ teaspoon salt
½ teaspoon pepper
8 ounces of beer (I used a classic amber)
32 ounces of barbecue sauce
Season chicken with onion powder, garlic powder, paprika, salt and pepper. Add to crockpot, then add beer and 24 ounces of barbecue sauce. Cook on low for 8 hours, tossing once or twice if desired. After 8 hours, shred and add remaining barbecue sauce. Toss chicken to coat and let sit for 10-15 minutes before serving to absorb everything. Serve as desired.
Notes from How Sweet Eats:
1. I've found that *thinner* barbecue sauce works better (such as Bone Suckin' Sauce) than thicker sauce (like Sweet Baby Ray's). If you choose to use a thicker sauce, you may want to add a little more beer (or liquid) in order for the sauce not to burn and thicken on the edges of the pot. This is also the reason I don't use my homemade barbecue sauce.
2. If you don't want to use beer, you can try a ginger ale, chicken stock, or even water.
3. This makes a ton of chicken and I usually freeze immediately freeze a container for later.
Big Flavors Rating: 5 Stars