This post may contain affiliate links, which won't change your price but will share some commission.
I wanted to do something new with tofu, and I came across this recipe. I thought it would be good served over brown rice instead of lettuce, so I made it for dinner tonight. It was pretty easy to put together, and it turned out great! I always end up using more cornstarch than what's called for when coating tofu, so I probably used twice what the recipe calls for. I topped it with some toasted sesame seeds, which were a really nice addition. This dish is great - it's sweet and tangy, and the fresh avocado and mango make it a great summer dish. Dino says he'd eat this every night!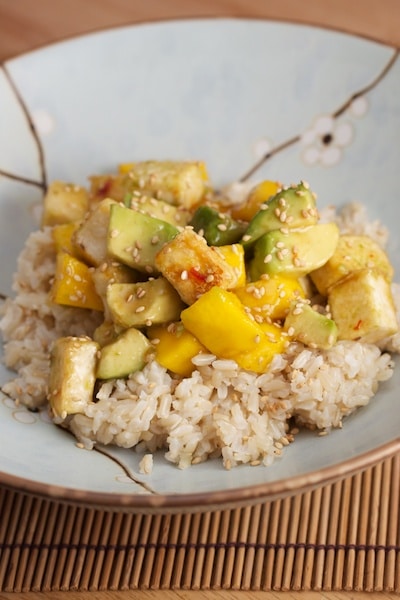 Crispy Tofu Cubes with Mango and Avocado In Asian Sweet Chili Sauce
Fab Frugal Food
Serves 4 as an entree; Prep and wait time 30 minutes
½ cup sweet chili sauce
2 tablespoons rice vinegar
1 tablespoon grated fresh ginger
1 tablespoon soy sauce
16 ounces extra-firm tofu
2 tablespoons cornstarch
2 tablespoons canola oil
1 large ripe mango, diced
2 ripe Haas avocados, diced
four large lettuce leaves, torn into bite-sized pieces
Stir together the chili sauce, vinegar, ginger and soy sauce and set aside.
Wrap tofu block with a kitchen towel and set between two dinner plates. Place a large can on top to press down, pressing liquid from tofu. Let stand 20 minutes or so.
Cut pressed tofu into ½ inch cubes. Toss in cornstarch until evenly coated. Heat oil over medium high heat in a large skillet. Cook tofu cubes in 2 batches so as not to crowd pan. Turn occasionally until cubes are lightly browned. Remove to paper towels and pat off excess oil.
Toss together sauce, tofu cubes, mango and avocado. Spread lettuce leaves on a salad plate. Mound the tofu mixture on top of lettuce leaves and serve immediately.
Big Flavors Rating: 5 Stars