This post may contain affiliate links, which won't change your price but will share some commission.
I've been using lots of kale lately, and I'm always on the lookout for more ways to use it. This salad is great because it uses things that I usually have on hand, and can be made 2 hours ahead of time, or even the night before! And it holds up pretty well in the fridge for a few days since kale is so hearty. I use a lemon juicer instead of just squeezing it with my hands, so I only used the juice of half, which worked perfectly. I've found in the past that if there's no specific measurement for lemon juice other than a number of lemons, it's safer to cut it in half and add more if needed when using a juicer/reamer. When you're ready to dive into this salad, just sprinkle some sunflower seeds on top and you're all set. I had roasted sunflower seeds in the freezer, so that's what I used. It adds a great bit of crunch to the salad, and the raisins get nice and plump from their time marinating in the dressing. This is definitely a good recipe to have in your kitchen arsenal.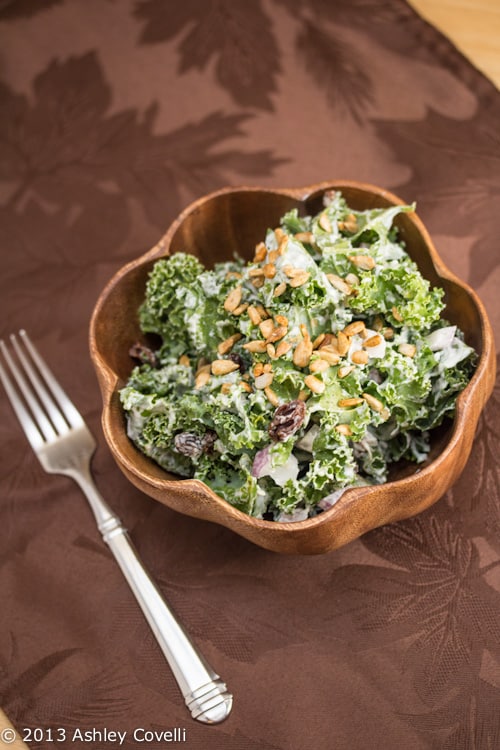 Creamy Kale Salad
Allrecipes - QueenDump&Pour
4 cups chopped kale (ribs removed)
¼ cup chopped red onion
3 tablespoons raisins
½ cup plain Greek-style yogurt
¼ cup mayonnaise
2 teaspoons sugar
1 lemon, zested and juiced
3 tablespoons sunflower seeds
Mix kale, red onion, and raisins in a large bowl.
Whisk yogurt, mayonnaise, sugar, lemon zest, and lemon juice together in a bowl; pour over the kale mixture and toss to coat. Refrigerate 2 hours to overnight. Sprinkle sunflower seeds over the salad and toss to serve.
Nutritional Information:
Servings Per Recipe: 8
Amount Per Serving
Calories: 96
Sodium: 65.2mg
Carbohydrates: 10.7g
Protein: 2.3g
Fat: 6.0g
Cholesterol: 3.5mg
Dietary Fiber: 1.6g
Big Flavors Rating: 4 Stars