This post may contain affiliate links, which won't change your price but will share some commission.
Tilapia is such a versatile fish, and with this simple coating, it was on the dinner table in no time at all. This meal came together in 20 minutes flat. Perfect for a busy weeknight!
Simply slather each piece of tilapia with a little low fat-mayo, dredge one side in a mix of cornmeal and chia seeds, and pop it into the oven. The chia added a nice bit of crunch to the crust, and the fish was beautifully tender and flaky.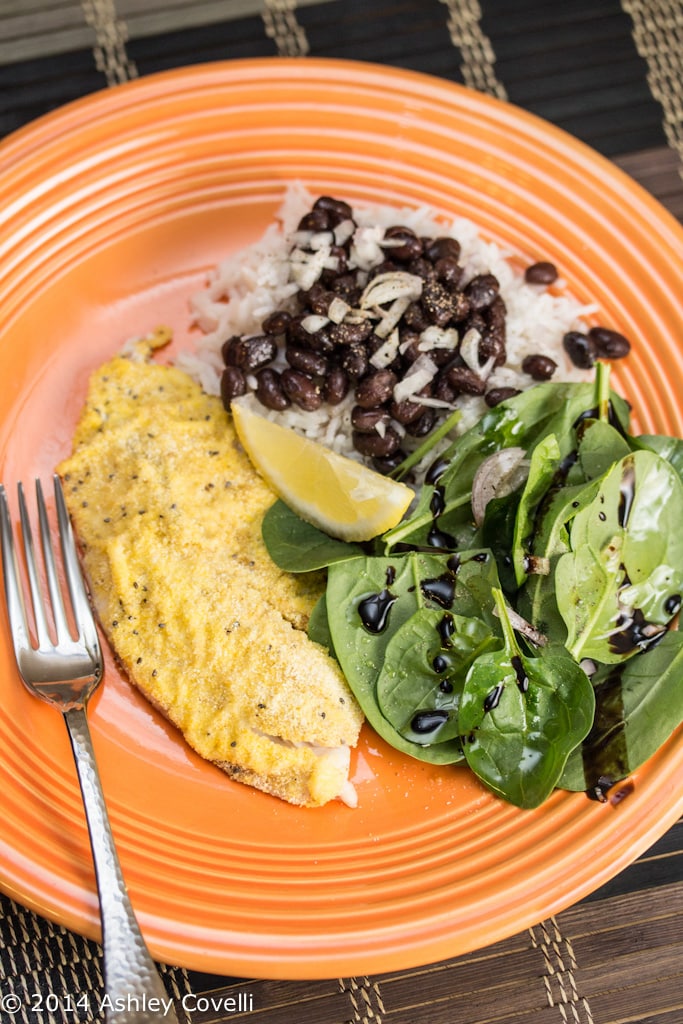 This method could be used with a lot of different spice blends. I'm anxious to experiment with it more. This is definitely a recipe worth repeating!
I served this with lemon wedges and a little hot sauce for a little zing, along with a spinach salad and some black beans and rice
Cornmeal & Chia Seed Crusted Tilapia
Savoring the Thyme
4 boneless tilapia fillets (1 pound total), patted dry
A few dashes of Kosher salt and ground black pepper
1.5 Tablespoons low-fat mayonnaise
¾ cup cornmeal
½ teaspoon chia seeds*
½ teaspoon garlic powder
olive oil cooking spray
1. Preheat the oven to 400 degrees Fahrenheit.
2. On a plate, toss together the cornmeal, chia seeds, garlic powder, and a dash each of salt and pepper.
3. Place a cooking rack onto a baking sheet, spray lightly with olive oil/non-stick cooking spray and set aside.
4. Sprinkle some salt and pepper onto each piece of fish, followed by a smear some of the mayonnaise and then invert the fish into the cornmeal mixture. Press firmly and then flip the fish over and place onto the cooking rack.
5. Bake for 15-20 minutes depending on the thickness of the fish.
*Do not add more chia seeds or else you end up with an overly crunchy fish instead of one with a nice texture.
Big Flavors Rating: 4 Stars